Average Kindle Book 6 Times More Expensive Than Self-Published Titles
In 2010 there were zero self-published titles among Amazon's top 100 bestselling books. In 2011 there were 18. What is drawing customers to these books in such large numbers, many of which are from new authors?
Price, says a new report by Piotr Kowalczyk, on the e-book news site TeleRead. The average price of a self-published e-book was one-sixth that of the average of all books.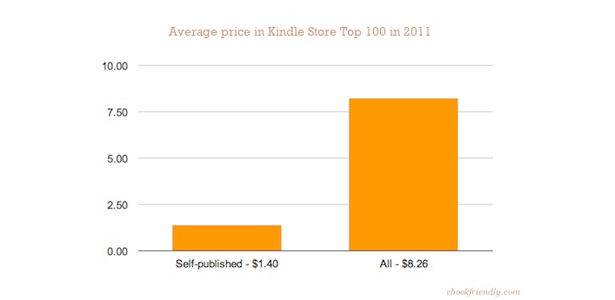 Kowalczyk says that self-published titles are attracting a specific sort of customer: voracious readers who are particularly price sensitive. They buy books that are unknown, without any prompting, based mostly on price. When two top-selling self-published authors gained some celebrity for their impressive sales, the news didn't fuel more sales, because, Kowalczyk says, the people who buy these titles don't really care how much a book sells. Kowalczyk writes:
In June John Locke [was the first self-publisher to join] the Kindle Million Club. The news coverage was huge, smartly amplified by the author himself, who published the book How I Sold 1 Million eBooks in 5 Months! The problem is that it didn't help the sales. All books from Donovan Creed series were out from Top 100 in June (check Chart 4 for details). Usually the news like that helps.

Same thing happened to Darcie Chan. Her novel, The Mill River Recluse, was #2 in Kindle Store in October. At the beginning of December Amazon announced the best books of 2011 and The Mill River Recluse was the best-selling Kindle title of 2011. Was it reflected in sales? No. The ranking of the book in December was worse than in November (#29 vs #19). It doesn't mean the book was selling worse than in earlier months (December means much higher sales). It just says that a good recommendation - the sales proof - doesn't work.
The texture of the e-book market may change in 2012, Kowalczyk writes, because the prices of self-published and publishing house e-books are converging -- established authors are self-publishing at higher prices and, simultaneously, programs such as the Kindle Daily Deal and the free Amazon Prime e-books bring down prices from publishers. As the market shakes out in 2012, a clearer picture of the future of the book industry will emerge, but, Kowalczyk says, it won't be as exciting to watch.