Why Is Unemployment in Spain So Unbelievably High?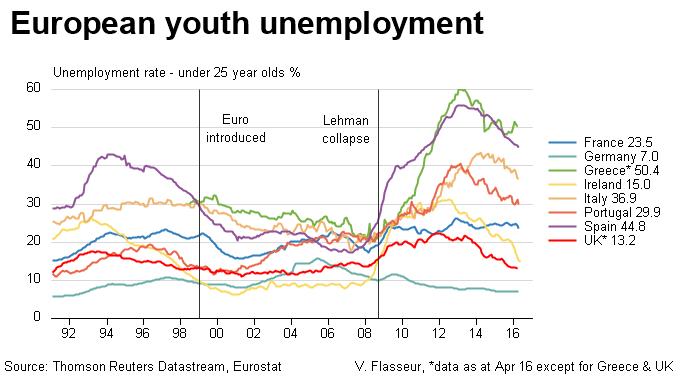 Spain suffers form 23% overall unemployment, the highest rate in the developed world. Even worse, nearly half of its workers under 25-years old don't have a job. Europe has its problems, of course, but how in the world are these numbers so astronomically high?

VoxEU offers a three-part answer. It boils down to too much construction, too much regulation, and not enough growth.

First, Spain suffered from the mother of all housing bubbles. At the height of the crisis, construction accounted for 12% of GDP and 13% of employment in Spain, even more than in the U.S. The construction boom can be explained by the debt boom. Household borrowing in Spain tripled between 1996 and 2004, and the price of a square meter of property tripled over the same period of time. Then it all came apart. Old homes went unbought. New homes went unbuilt. And construction, which had served as a reliable pipeline for young jobs, dried up.

Second, Spain's labor laws make it cumbersome to fire employees, which scares companies from hiring workers when times are rocky. As a result, Spain relies on temporary workers -- rather than full-time, long-term employees -- who don't count as officially employed. Low barriers to hiring and firing makes it more attractive for employers to hire. For analogy, imagine you're buying a car with limited means. Would you rather lease a car with the option to switch sedans after a year, or pay more for a car that might be a lemon and costs extra money to turn in before five years? You might choose to lease. Spanish employers are doing the same thing.
The third factor is the biggest. It's also the most elusive. It's growth. Without growth, countries used to borrowing get into trouble. With strong growth, unemployment and borrowing costs go down. But with the euro crisis still in its burgeoning stage, strong growth in Spain is probably many wrenching years away. This picture isn't going to get prettier any time soon.

>