The Recession Was Sexist (So Is the Recovery)
Men and women lived through separate recessions. Now, women could be at a disadvantage as they experience a separate recovery.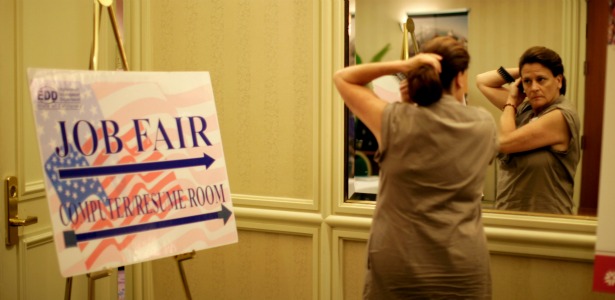 Reuters
The Great Recession was hell on everybody, but it was a particularly hellish time for men. The housing collapse and financial crisis tag-teamed to gut industries like construction and manufacturing that had been traditional bastions of male employment for decades. Women reached nearly 50% of the work force. And many have wondered whether the Y chromosome is about to become a permanent economic liability.
The Atlantic
's own Hanna Rosin captured the question brilliantly in her piece, "
The End of Men
."
But there's also a less talked about story about gender and the recession. Men may have fallen harder. But during the country's sluggish recovery, they bounced back faster. And in the current rickety job market, women may be facing the tougher road ahead.
A chart from the Institute for Women's Policy Research illustrates the disparity between job gains for men and women since the economy began to turn around. The data is drawn from the Bureau of Labor Statistics' payroll survey.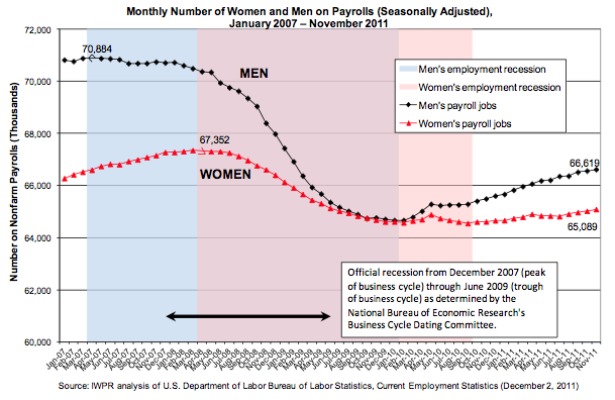 You're looking at a two-track recession and a two-track recovery. Men as a group started losing their jobs a full year earlier than women, well before the economy officially entered its slump in December of 2007. Housing began to cool, taking construction jobs with it. Male employment ultimately shrunk by about 9%, or 6.2 million jobs. When employment bottomed out in early 2010, there were only about 2.7 million fewer women on the nation's payrolls, a drop of just roughly 4%.
Enter the recovery. Since November 2010, 70% of new jobs have gone to men. At first blush that sounds reasonable. If men lost more jobs, they should also recoup more. The problem crops up when you look at the number of job gains as a fraction of losses. Men have regained about a third of the jobs they shed in the recession. Women have only regained about one in five.
Ladies and gentlemen, we have a gender gap. And it's not clear whether it will narrow. In November, female job gains actually outpaced males, 65,000 to 55,000. But going forward, women are going to have to contend with one of the nastiest forces in job market: government budgets.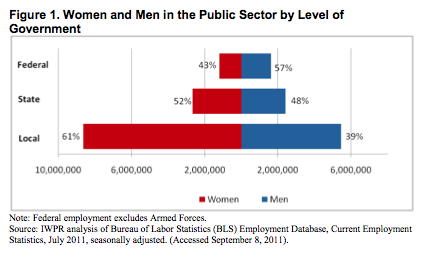 As the graphic to the left shows, women far outnumber men on state and local government payrolls, especially in public schools. Early in the recession, those employers were propped up by stimulus money. No longer. We live in an age of belt tightening, and government employees are being shown the door by the thousands. Last month, state and municipal payrolls shrank by 16,000 workers. There's no sign of the trend letting up.
Where might women find some relief on the job market? Healthcare and education. According to the BLS, women make up 76% of workers in those sectors, which together added 27,000 workers in November. Hospitals, which are desperate for nurses, alone added more than 8,000 employees. But will hiring in the ER make up for more rounds of local budget cuts? We can't know.
When it came to jobs, women had a less painful recession than men. But they've had a slower recovery, and whether they make a full comeback could hinge in large part on the fate of the public sector. For unemployed women, that's a scary prospect.