The Dollar Is Dead, Says the World's Worst Central Banker
Zimbabwe says it's time to drop the U.S. dollar and move on to the Chinese yuan. Should you trust the folks who brought you the 100-trillion dollar bill?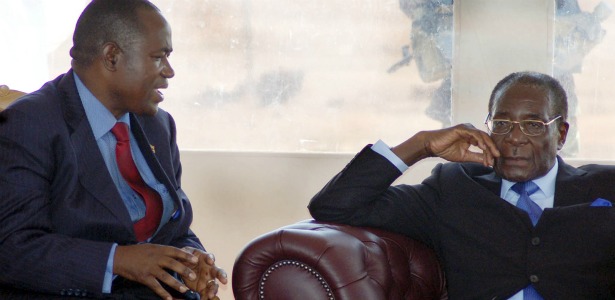 Reuters
You might not be a fan of Ben Bernanke's monetary policies. And you might be fed up with the European Central Bank's dawdling. But whatever their shortcomings might be, at least they're not responsible for 231,000,000% inflation.
Sadly, the same cannot be said for Zimbabwe Reserve Bank Governor Gideon Gono.
Gono was the man who turned on the printing presses to fund Zimbabwe's government after dictator Robert Mugabe drove its economy off a cliff. The resulting hyperinflation left the Zimbabwe dollar effectively worthless. But at the very least, everybody got some totally sweet 100-trillion-dollar bills. They even kind of looked like monopoly money.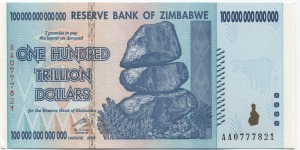 Nowadays, Zimbabwe uses the American dollar as its main official currency. It also allows transactions in a few others, including the Euro and the British Pound. The arrangement has kept inflation low. But Gono has a concern. He thinks it's time to bail on the dollar and adopt China's yuan.
"With the continuous firming of the Chinese yuan, the US dollar is fast ceasing to be the world's reserve currency and the Euro-Zone debt crisis has made things even worse," he said earlier this week, according to New Zimbabwe. "As a country, we still have the opportunity to avoid being caught napping by adopting the Chinese yuan as part of consolidating the country's look East policy."
As Zero Hedge pointed out, it's a bit concerning that the man responsible for the world's most staggering monetary failure now sees storm clouds gathering around the greenback. On the other hand, it's the man responsible for the world's most staggering monetary failure. We may need to take his opinion with a grain of salt.
In the end, this might have more to do with trade and geopolitics than the future value of the dollar. China is Zimbabwe's largest trading partner, and promoting the Yuan as an international currency might help curry favor with Beijing. And while it's pretty debatable whether the dollar is really headed for a dramatic fall, the Yuan is appreciating. Since Zimbabwe sends so much of its roughly $1 billion to $2.5 billion of annual exports to China, it makes some sense to adopt their currency.
So the guy has a few strikes against him. But this time, he might have a point.
Image of a 100 trillion bill courtesy of Lee.org