The 13 Countries With Higher Manufacturing Salaries Than the U.S.
Eleven European countries, plus Australia and Canada pay their manufacturing workers more in compensation -- wages plus benefits -- than the United States, according to BLS data from 2010, the most recent on record. Exchange rate fluctuations make the numbers a bit volatile, but with that caveat out of the way, onto the graphs: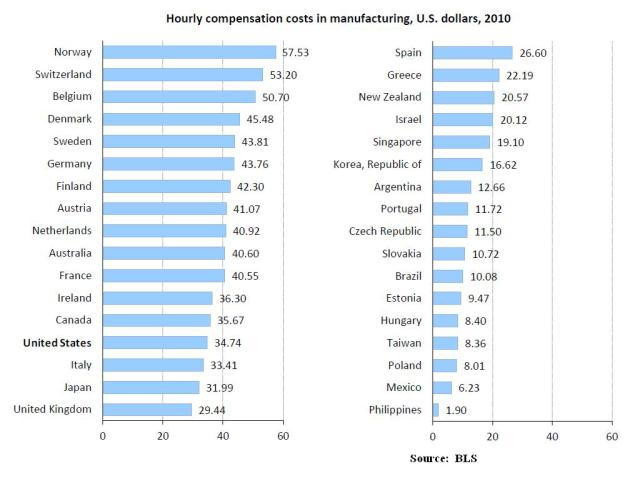 Harry Truman famously begged for one-handed economists. You understand why when you read charts like these.
On the one hand
, the fact that U.S. manufacturing workers are seeing their salaries fall below the private sector (see below) is good news. It makes them more competitive compared to workers in China and Taiwan. That could mean more U.S. jobs. As the gap closes between U.S. and foreign wages, more manufacturing jobs will stay here, especially when companies factor in
the cost of shipping and logistics.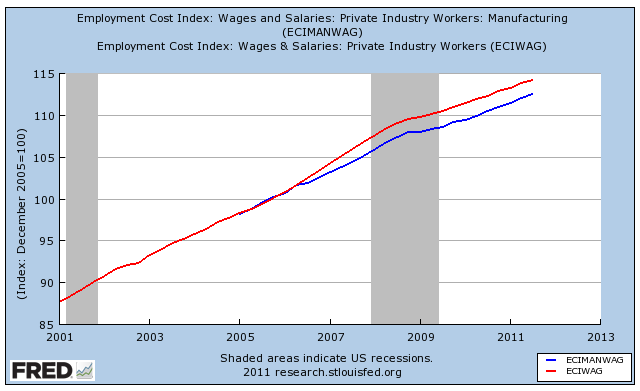 On the other hand, falling salaries aren't so awesome for the workers whose wages aren't keeping up with the rest of economy and find they can't afford the rising cost of health care, higher education, and energy. What you're left with is the inevitable pain of a necessary transition, which might as well be a new rubric for economic coverage. What's good for employment -- cheaper workers -- isn't necessarily better for the employed.