Texas Cities Won the Recession, and They're Winning the Recovery
Lone Star metros have dominated every phase of the Great Recession, but there's trouble on the horizon for some of Texas' strongest cities
Wikipedia

Welcome to the third phase of the Great Recession. Phase One was the housing collapse, felt most heavily in those cities along the Sun Belt that rode the real estate wave in the 2000s.

Phase Two was the stimulus recovery. Cities with large government presences saw slow but steady growth when federal dollars flowed through state governments. As a result, state capitals and military centers saw the most dependable growth.

This is Phase Three: the post-stimulus recovery. For the last year, total government spending has become a drag on the national economy. State and local government employment has steadily lost jobs every month this year. As a result, cities that rode out the second phase -- e.g. San Antonio, Augusta, Jackson, Little Rock, Richmond, and Virginia Beach -- began to slide when Uncle Sam tightened his belt.
But in all three phases, there has been one constant: Texas cities have outperformed the national average. They entered the recession later, thanks to high energy prices and low housing inflation throughout the state. They rode out the second phase successfully, thanks to military bases in Houston El Paso and plenty of government support for San Antonio across its medical, education, and local government sectors. And they've (mostly) thrived in this third phase, thanks the bounce-back in oil and gas activity in Houston and a strong high-tech performance out of Austin.
Last week, two reports again put Texas cities at the top of a national survey. Houston, Dallas, and McAllen were named among the 20 top-performing large U.S. metros, according to a survey out of the Brookings Institution that measures housing prices, employment and economic growth. Another report from the Milken Institute named San Antonio and El Paso the best performing cities in all of 2011. (Last year, Austin and McAllen finished in the top five.)
"Texas metros continued to dominate the rankings, taking four of the Top 5 positions and nine of the Top 25," according to the Milken Institute report, which found Texas added one in every five new jobs in 2011.

One statistic to rule them all: By September of this year, only six major cities had recovered all of the jobs they had lost in the Great Recession. Five of them -- Austin, El Paso, Houston, McAllen, and San Antonio -- are in Texas.
ROUGH PATCH UP AHEAD?

Don't look now, but Texas' fortune might be fading. The reason why comes down to one thing some of its residents -- and certainly its governor, Rick Perry -- would prefer not to talk about: The U.S. Congress.
If you haven't heard of the Base Realignment and Consolidation (i.e.: BRAC), odds are you don't live in El Paso or San Antonio, where the congressional deal moved billions in military resources over the last few years. In San Antonio, the growing military is at the heart of the stable recovery. The city's air force bases and Fort Sam Houston employ 77,100 people, and their medical training facilities employ up to another 100,000. But that doesn't even compare with El Paso, which "has benefited more from the military base realignment than any other metro," according to the Milken Institute. After the doubling of Fort Bliss, this one El Paso base now employs nearly 10 percent of the city's population. Not employed population. Total population.
Relying on military spending has generally been a good bet for the last ten years. But when the 2011 supercommittee failed to come to an agreement on cutting the deficit, it triggered a sequester that would cut total defense spending by a whopping $700 billion, starting in 2013. You can bet those cuts will be felt harder in San Antonio and El Paso than almost any other city.

But even before these cuts take place, Texas' strongest cities are showing signs of weakness. Despite leading the nation in employment resilience for the last two years, they're among the worst performing cities in the country right now, according to the Brookings report, which focused on data from the third quarter of 2011.

What's happening? Once again, it comes back to government spending, which is tightening at every level. In order to understand why shrinking total government would hurt some Texas cities' growth, you have to understand what was behind their resilience in the first place.
One out of every five jobs were created in Texas in 2011. Some of this was, no doubt, the result of the state's business climate. Regulations are lax. Unions are non-existent. Land is plentiful, and office space is relatively cheap. But when you drill down into the jobs-added figures by sector, you see something surprising. Most of the jobs added aren't in the private/services sector. They're in government and government-supported industries like education and health services.
With help from Alan Berube at the Brookings Institution, these graphs break down jobs won and lost in Texas versus the entire U.S. since 2007. The first compares percent-change within industries. The second compares total jobs gained/lost by industry. (Click the graphs to make them bigger).

% Change by Industry
June 2007-June 2011

Jobs Added by Industry (thousands)
June 2007-June 2011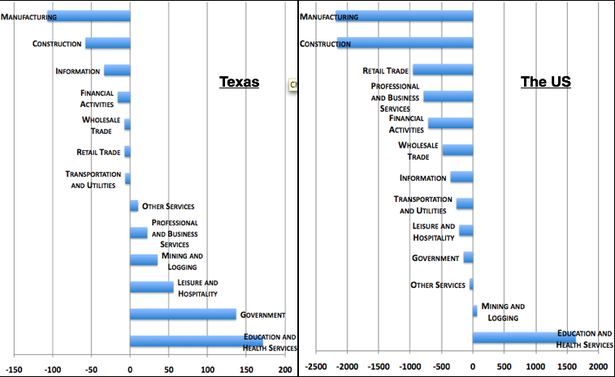 As you can see, most of the jobs added in Texas since 2007 have come from government and education. But both sectors have shrunk nationally in 2011 and could continue to shrink in 2012. That doesn't bode well for cities like San Antonio and El Paso, which rely on steady government spending to keep their education, medical, and military jobs -- especially as the state fights off the impact of freak drought, fires and other surprises.
In the third phase of the recession, the strongest three metros in Texas -- Austin, Houston, and Dallas -- have found their own respective engines of growth away from the federal government, especially in energy production and high tech. But for cities like El Paso and San Antonio that lean on government spending to support their biggest industries -- military and medical spending -- what gets cut in Washington is felt in Texas.

Like I said, welcome to the third phase of the Great Recession.
>