It's Beginning to Look a Lot Like 2009 in India
When economists talked about the global recovery over the last three years, they weren't talking about the West. They were talking about the rest of the globe, in particular: India, China, and Brazil, economies with nearly double-digit growth. That's one big reason to worry about India, which is withering under high inflation and slowing exports. A trio of scary graphs: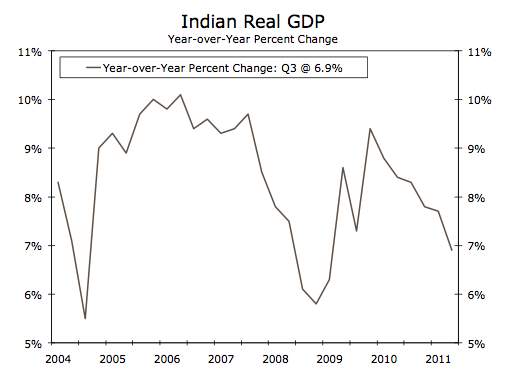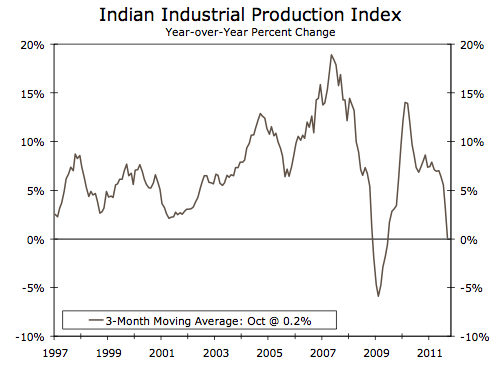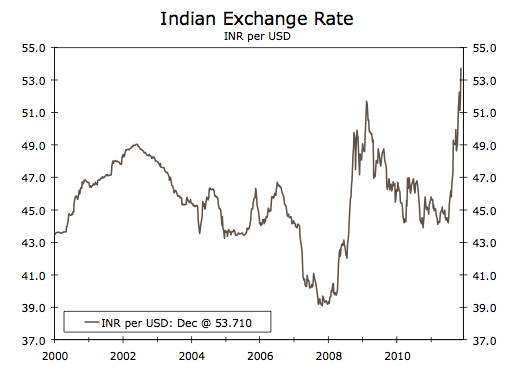 Here's what these graphs, courtesy of Wells Fargo, won't tell you. In 2009, import and export plummeted in India, and even reversed for part of the year. That's not happening today. In fact, Indian exports have been a bright spot, growing as much as 50 percent year-over-year.

Here's what the graphs do tell you: Once you get past mid-year export growth, there's not a lot of good news coming out of India. Inflation is near 10 percent, which is even worse news than it sounds, since Indian families spend as much as 30 percent of their income on inflation-sensitive food. GDP growth is down, industrial production is slowing, and investors are shirking away from Indian assets. All that means the India is inauspiciously reliant on a global economy that is feeling even more vulnerable. Twenty percent of its exports go to the EU, which is on the precipice of ... well, who even knows right now. Another 20 percent go to Asian economies, many of which are experiencing their own slowdowns.
The vast majority of India's growth in the last few years has come from the service sector and service exports, such as business process outsourcing and call centers. "The service sector has accounted for essentially all of the growth in Indian value added over the past four quarters," Wells Fargo reports. If European growth turns negative and China's economy slows to six percent growth (blazingly fast by our standards; practically a recession by China's), India has a lot to worry about. And, therefore, so do we.

>