Get Ready for Manufacturing's Big Comeback
As the cost of doing business in China rises, U.S. manufacturing could be on the verge of a renaissance. But that won't necessarily mean a flood of blue-collar jobs.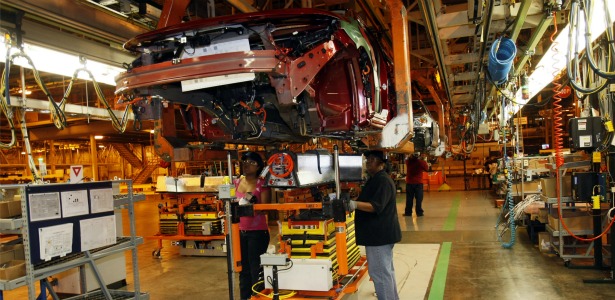 Reuters
In the past year, the conversation about U.S. manufacturing has undergone a quiet but remarkable change. Gone is much of the doom and gloom about the death of American factories. Instead, many now seem certain that industry is due for a comeback here at home.
The latest murmurs of good news came last week, when Cook Associates released the
results of survey
finding that 85% of manufacturing executives expected at least some kinds of factory work to return to the U.S. from overseas. The firm polled roughly 3,000 executives at small and mid-size manufacturers, about two-thirds of whom said their companies were currently manufacturing or outsourcing work abroad.
What could drive the revival? 
Rising wages
in China, to start. Workers there are still cheap -- in the country's southern manufacturing hub, they earn just 75 cents an hour -- but they're not as cheap as they used to be. According to the
American Institute for Economic Research
, the average hourly wage in China doubled between 2002 and 2008. The country's currency has also risen gradually since 2005, from about 12 cents per yuan up to roughly 15 cents.
Pile on the logistical headaches that come from coordinating operations across the Pacific, as well as high fuel costs that make shipping more expensive, and all this has some business people considering a move back to the states. For some kinds of work, at least. In August, Boston Consulting Group released a
report
predicting a global realignment in the manufacturing sector. By 2015, the firm believes that many kinds of production will be just as cheap in the U.S. as in China, especially in low volume, heavy goods where labor only makes up a small part of the cost equation. Those include products like car parts, construction equipment, and appliances. Not everything is moving home. Textile mills in South Carolina? Don't hold your breath.
Factories are about to disappear from Shenzen. They'll still be there, churning out iPods, TVs, and pretty much whatever else you can imagine. But they'll cater more to China's domestic market, which is expected to grow exponentially in the coming years. Meanwhile, factories would move back to the United States to build products for sale in North America.

So we could one day be seeing more made in the USA labels. But how many more American workers will be stamping them on? That's where things become tricky. One of the great misconceptions about America's manufacturing decline is that the country no longer builds things. That's simply not true. As the BCG report notes, the value of U.S. output increased by a third between 1997 and 2008, a period when the economy shed millions of manufacturing jobs. The culprit: productivity.
U.S. factories simply need workers than in the past. We've become exceptionally good at making products using very little labor and lots of machines. Think of that GM
Superbowl ad
with the oddly sympathetic robot arm that starts moping after it drops a bolt. That sulking hunk of metal is the real face of most U.S. factories.
Of course, someone has to operate all those robots. The increasing importance of technology on the factory floor has turned manufacturing into a high skill field, as the president of the Federal Reserve Bank of Cleveland noted in a recent speech. As manufacturers have laid off blue collar workers, they've been hiring more college grads. That means, even if BCG is right, and a return of U.S. factories creates 2 to 3 million domestic jobs, it won't be a cure-all for the problems that now afflict the labor market. Building things takes a degree. And the current jobs crisis has, more than anything, been about the plight of the undereducated male -- the kind of worker who increased productivity made redundant in the first place. 
The return of more manufacturing would be a great boon for the U.S. But it doesn't mean yesterday's factory worker will get his job back.