Fuseproject's Yves Béhar on the Importance of Affordable Design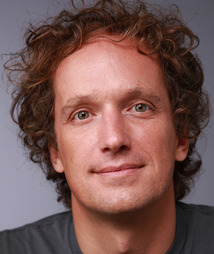 Yves Béhar founded and manages the California-based design firm
fuseproject
. The company, which has a team of around forty people, received the
INDEX
 award for their innovative approach to socially-responsible design in "See Better to Learn Better," an
initiative
that provides free customizable eyeglasses to needy students in Mexico. In addition to running Fuseproject, Béhar is an avid surfer, and his love for the outdoors is part of his motivation for achieving sustainability through design. Béhar believes that it is important that design be both ecological and affordable. Here, he explains how Fuseproject approaches sustainability by partnering with organizations and finding ways to "disrupt markets."
How is fuseproject unique from other design firms?
It's unique in that we tend to partner with people over long periods of time and work with them on all aspects of a company or business. By being partners, we're able to do what I call a 360-degree approach to building businesses through design, using all the tools design has. Being partners puts us in a unique position to focus on sustainability or social good, in addition to creating cohesive product and brand experiences.
What are some examples of partnerships fuseproject is involved in?
One example of this would be Pact, an underwear company. We worked with the founders over three years to develop a completely different approach that not only has sustainability and social good at the center, but also to deliver a product that's very comfortable, and also very cool because it changes every six weeks. We provided printed underwear with unique graphics that refer to the cause of these non-profits, so we used a modern version of a Japanese block print for a campaign to raise awareness about earthquake relief in Japan, in partnership with Architecture for Humanity. We're giving ten percent of the sales of each pair of underwear to these non-profits. We did a large project with Puma on redesigning their shoebox; it was a three-year exercise in rethinking the shoebox -- its materials, its logistics, its weight -- to reduce the amount of materials that go into a shoebox by fifty-five percent, and energy uses, too. Forty million of these shoes are being shipped every year in these reduced shoeboxes, and by next year it will be eighty million.
And fuseproject has partnerships with non-profits, too, right?
Fuseproject has an ongoing involvement with various non-profit organizations, like One Laptop Per Child, [which offers inexpensive laptops to children in developing countries]. There's also See Better To Learn Better, which distributes free eyeglasses to schoolchildren in Mexico. Our business model allows us to both put design at the center of those businesses as well as focus on sustainability.
Your website says that your design approach works to "disrupt markets." Can you unpack that concept?
Design is a tool that either allows us to create new markets or disrupt existing ones. Herman Miller is the number one high-end chair-maker. The mid-market of chairs is where they come at half the price, but those products don't follow the principles of the high-end chairs, and have a lower level of design innovation and sustainability. We worked with Herman Miller for three years to develop a very low-carbon-footprint, innovative, high-design product for market -- the Sayl Chair -- that is sold at a much lower price point than most high-end chairs. We used the tools of design to disrupt existing markets.
What challenges do you encounter when trying to work with clients on sustainably- designed products?
The biggest challenge is that when people look at low price point products, they essentially invest less money in development, innovation, and new technology. And in order to innovate at a lower price point, and make sustainability attainable to the masses, you have to invest more. But that's counterintuitive for a lot of businesses. With Herman Miller, who is a leader in thinking differently, we knew that this was a strategic program that would likely need more resources in order to be more innovative. The chair is a frameless back so it uses a suspension material placed on a frame, which uses less materials and is comfortable. But the finance and development it took to get there presented a level of complexity above the development of a high-end chair. On the other hand, the rewards of innovating at a lower price point are commercially huge.
Trying to build a better planet. Read more from this special report.
What do you think about IKEA?
There's an interesting saying from Finland, which is "poor people can't afford cheap design," or cheap things. To me, the lack of longevity of IKEA products is a problem. But another big issue is the lack of sustainability in the products themselves -- the chemistry of the products is problematic to say the least, such as the glues.
What is a personal experience or something in your background that has influenced the way you work?
Part of my life is spent designing in urban centers, and part of my life has been spent in factories. But the other part of my life is spent in nature. I spend a lot of time in the water, surfing; I've been doing it for thirty years. And once I saw how exciting sustainability can be as a tool in design, I saw how it wasn't a niche, and it can be applied to every product that's being built. The other revelation for me was that everybody wants sustainability. The only reason people aren't buying sustainably-made products is that they are too expensive or hard to find. But everybody wants products that are better for their health and for the environment. So, it's our responsibility as designers to make that possible. For me, good design facilitates the adoption of new ideas. And for me, sustainability is a new idea, and combining it with functionality and beauty will facilitate its adoption.
How does the curriculum at the California College for the Arts, where you teach, help students to learn green design?
I've been working with students over the last fourteen years. Every student wants to practice sustainability; there's no lack of passion for that. I think one of the challenges is that, currently, there isn't a single standard to go by. We're really in the early stages, where industry by industry, solutions are going to become relevant in this kind of work. There's a lot of creativity and discovery that's needed in the field. Courses around manufacturing, chemistry, materials, as well as entrepreneurship, are all needed. But to me, those ideas need to be woven into every part of a curriculum, rather than being separate. In the next fifteen years, a lot of those different approaches are going to be invented and implemented, so there's an exciting way forward. Solutions in the world of office furniture, for example, are going to be radically different than those in fashion -- each field demands a set of creative answers that are going to be developed in the years to come.
To what extent will designers be involved in widespread, systemic problems in the near future, such as policy issues or the obesity crisis?
Designers have not been involved enough in those areas. When we're called upon to participate, we find that the creative abilities and execution abilities that make us important to for-profit businesses are lessons that apply perfectly to non-profits as well, or to systemic issues. The same kinds of efficiencies, delights, and experiences, are needed in those areas as well -- as well as new creative solutions, obviously. It could be the way a ballot is designed, or how to create engaging programs around obesity -- designers have a big role to play. I don't think businesses or government institutions are calling upon designers to help enough. But I see the change coming in those areas.
What are you working on now?
We're working on some really interesting, fascinating new projects. One just launched last week; a bracelet called Up by Jawbone -- it's a health or lifestyle device that you wear and gives you feedback, and you share this information, too. I think this could be an important tool in areas like obesity or diabetes. It costs $99 at retail. That's the first version of a type of product that will be very present in our lives in the years to come. We are going to know a lot more about our health and the impact of our lifestyle. There's a line of products that we're launching in 2012, which addresses the needs of an aging population -- another area where design hasn't done enough yet. Things need to be usable, ergonomic, but also pleasurable. The next few years in design are going to be fascinating. We've proven that design makes a difference in business. Now, every field that's underserved by design is really an opportunity.