For the Last Time, Fannie and Freddie Didn't Cause the Housing Crisis
The housing bubble occurred during a period when Fannie and Freddie's market share of high-risk mortgages dropped.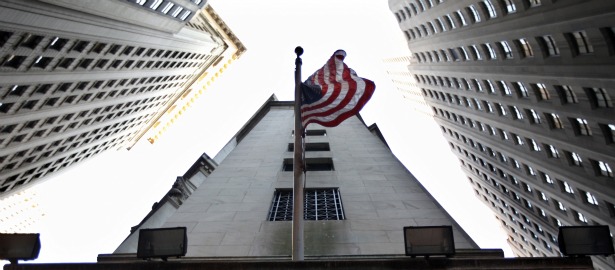 Two weeks ago, we published an interview with Rep. Barney Frank. Defending his role as chairman of the House Financial Services Committee at the start of the recession, the congressman took a swipe at Peter Wallison, the member of the Financial Crisis Inquiry Commission most critical of government's role in the crisis. Wallison responded, on our site, that Congress was indeed at the heart of the mortgage meltdown. Here, David Min, the associate director for Financial Markets Policy at the Center for American Progress, responds: 

In his article for The Atlantic, Peter Wallison claims that Rep. Barney Frank played a major role in causing the financial crisis, by pushing for affordable housing goals in 1992 on the mortgage market entities Fannie Mae and Freddie Mac, which enjoyed government backing. This line of attack is consistent with the argument that  Wallison has pushed in a multitude of other venues, most notably in his Financial Crisis Inquiry Commission dissent, in which Wallison claims that federal affordable housing policies were the primary cause of the financial crisis. To understand why Wallison's argument has been rejected by many analysts, including by all nine of his fellow commissioners on the FCIC, it is helpful to recall a few facts that he conspicuously omits from his interview with the Atlantic.
1. A SUBPRIME DEFINITION OF 'SUBPRIME'

First, central to Wallison's argument that affordable housing policies (including those advocated by Rep. Frank in 1992) caused the mortgage crisis is his claim that the federal government is responsible for 19.2 million "subprime" mortgages (with Fannie Mae and Freddie Mac being responsible for 12 million of those). But what Wallison fails to tell the Atlantic's readers is that he is using his own made-up definition of "subprime," a definition that no one outside of his think tank, the American Enterprise Institute, uses. By way of comparison, the non-partisan Government Accountability Office has estimated that there were only 4.58 million subprime and other high risk loans outstanding, with very few of these attributable to the federal government.
Importantly, as I've argued elsewhere, Wallison's vastly expanded definition of "subprime" does not stand up to serious scrutiny. In fact, the overwhelming majority of the "subprime" loans Wallison attributes to the federal government have defaulted at about the same rate as the national average. This delinquency rate is about one-third the rate of actual subprime mortgages.
Wallison also omits the fact that most of the "subprime" mortgages he attributes to federal affordable housing policies could not have been motivated by these policies, either because the loans were ineligible (typically because they were made to higher-income borrowers) or because the lenders were not subject to these policies (such as in the case of the non-bank lenders, which did not have any applicable federal affordable housing requirements; non-bank lenders made up 24 of the top 25 subprime lenders in 2006).
2. TIMING IS EVERYTHING

Second, Wallison fails to inform his readers that Wall Street's "private-label securitization" of mortgages, which objective analysts identify as the primary source of most subprime and other high-risk loans, experienced a dramatic increase in market share that was exactly contemporaneous with the housing bubble, rising from about 10 percent market share in 2003 to nearly 40 percent by 2006. Overall, loans originated for private-label securitization have defaulted at about six times the rate of Fannie and Freddie loans. Indeed, Wallison does not explain--cannot convincingly explain--why the housing bubble occurred during a period when Fannie and Freddie's market share dropped precipitously. Wallison's answer to this central problem with his thesis is simply to claim that the housing bubble began in the early 1990s (Gretchen Morgenson and Joshua Rosner, who advance a similar argument about the central role of Fannie and Freddie's affordable housing goals in the housing bubble in their book Reckless Endangerment, deal with this problem in a different, but equally anemic way--claiming that Fannie and Freddie created a "cultural" shift in mortgage banking, teaching Wall Street that lobbying and increased risk-taking could lead to greater profits).
3. WHAT CAUSED THE COMMERCIAL BUBBLE?

Third, Wallison ignores the parallel bubble-bust cycle we experienced in commercial real estate, which does not have affordable housing policies of the sort he criticizes for Fannie and Freddie. Commercial real estate values experienced a peak-to-trough price decline of 45 percent, which was considerably worse than the 33 percent peak-to-trough price decline we saw in residential real estate. If, as Wallison contends, it was affordable housing policies that caused the residential real estate bubble, then what caused the bubbles in commercial real estate? Moreover, why did we have similar surges in credit liquidity in student loans, auto loans, and credit cards? The mainstream narrative advanced by Rep. Frank and most others--that it was unregulated securitization on Wall Street that drove the financial crisis--explains these parallel bubbles fairly well; the argument advanced by Wallison does not.
Moreover, as Wallison's fellow Republican-appointed commissioners on the FCIC noted, many other countries, including the United Kingdom, Australia, Ireland, and the United Kingdom, all had contemporaneous housing bubbles. Again, the mainstream narrative--that poorly regulated new forms of financing drove asset bubbles--explains this fact rather well; Wallison's argument does not.
In short, there are many reasons, of which I've provided just a few, why Peter Wallison's argument has been rejected by his fellow Republican-appointed FCIC commissioners.
Unfortunately, some people will, for ideological and other reasons, always believe that any market failures must necessarily be the fault of government intervention, no matter how convincing and overwhelming the evidence is against this proposition. I believe we should join with the more nuanced view taken by Rep. Frank, who has rejected the proposition that U.S. housing policies caused the financial crisis, while at the same time acknowledging that these policies were flawed and need major revisions.
_________________________________________

Editor's Update: Peter Wallison responds via email.
"Now that the SEC has sued Fannie Mae and Freddie Mac for failure to disclose the subprime and other low quality loans they held and securitized, this really is the last time we'll hear from David Min and others who have been trying to protect the government from blame for the financial crisis.
"The SEC's suit is based on the failure of Fannie and Freddie to disclose the poor quality of the mortgages that they were buying, holding and securitizing. As the SEC said in its press release on the suit: "Fannie Mae and Freddie Mac executives told the world that their subprime exposure was substantially smaller than it really was." This explains why Min and others--despite the insolvency of Fannie and Freddie-- have continue to argue that the two companies did not hold substantial amounts of subprime and other low quality loans. Fannie and Freddie simply failed to disclose this information.
"The Financial Crisis Inquiry Commission failed completely in its mission because it refused to inquire seriously into what Fannie and Freddie had done. My dissent however, based on the research of my AEI colleague Edward Pinto, contains all this data, and even points out that Fannie and Freddie had failed to disclose it to the market. Although the FCIC had subpoena power and could have put Fannie and Freddie executives under oath, the FCIC did not want to know the facts that the SEC has now discovered. It was a travesty and a whitewash, and a waste of taxpayer funds. It has also misled people like David Min and others into believing that Fannie and Freddie were--as the FCIC said in its majority report--only "marginal" players in the financial crisis. It's lucky for the FCIC that the SEC doesn't have jurisdiction over false government reports.
"When all the facts come out at trial, the roles of Fannie and Freddie, and the government housing policies they were implementing, will become painfully clear."
>