Christmas Gift-Giving by Country (or: Why Are the Dutch So Stingy?)
The world's most generous gift-givers? You won't be surprised to learn they live in Europe's richest country. With nearly $800 in Christmas spending per year, the folks from Luxembourg lead the world in yuletide shopping, followed by the United States, Ireland, Switzerland, and Britain, to round out the top five.
The relationship between GDP per person (graphed along the Y-axis) and Christmas spending is strong indeed, according to this graph prepared by the Economist.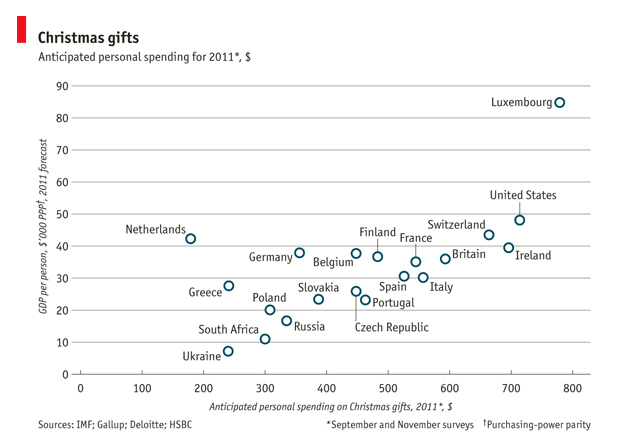 As the guys from Freakonomics put it, the Netherlands holds up to its "austerity chic" stereotype. Four times richer than countries like South Africa and Ukraine, it somehow spends less per person on Christmas.

Another observation for the road: When it comes to government, Berlin wants Athens to act more like spendthrift Germans. When it comes to holiday spending in 2011, Greece is learning to pinch its pennies. Both it and Germany spend less than you'd guess given their GDP per person.

And what about the U.S.? For once, we're not an outlier when it comes to spending (see: every health care chart). We spend practically the same as the Irish, despite a quarter richer GDP per person. Our per capita figure is similar to Switzerland and the Netherlands. We spend only a few dozen more bucks than the Swiss ... and $500 more than the Dutch.
_____
Also in our mostly serious "Santanomics" series:
Is Christmas Bad for the Economy?

The 12 Days of Christmas? That'll Cost You a Record $101,119.84
>