Census: Last Year Had the Slowest U.S. Population Growth in 70 Years
The U.S. census reported today that the national population grew by 2.8 million (or 0.92 percent) in the 15 months between April 2010 and July 2011. That's the lowest rate since the 1940s.
Over the same period, payrolls increased by only 1.7 million jobs. In other words, job creation could only keep up with 60 percent of population growth ... at its slowest in 70 years. It's the kind of sad statistic that is self-explanatory. Population growth was slow partly because the economy showed so little promise.
The state data tells a more varied story. More people moved to Texas than any other state in the last year. Between 2010 and 2011, Texas added about one in five new jobs and about a fifth of the new population. The next fastest-growing states were among the most populous: California (438,000), Florida (256,000), Georgia (128,000) and North Carolina (121,000). "Combined, these five states accounted for slightly more than half the nation's total population growth," Census reported. Here's your population graph, with the Y-axis representing new people: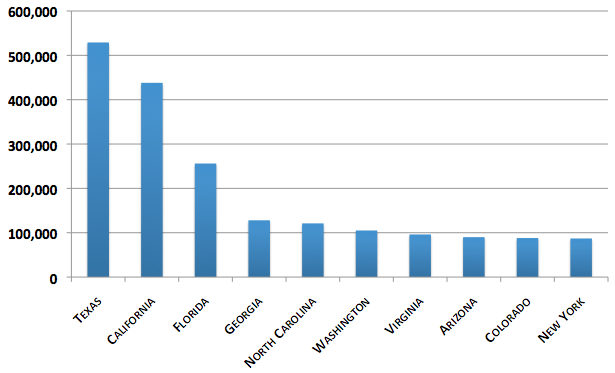 And below, we find the states growing fastest as a percent of their 2010 populations. The fastest growing state in the U.S.? It's not a state. It's Washington, D.C., followed by Texas and Utah. All three share some important features. They've seen stable housing prices since the crash. Also, they've had rising incomes -- Washington because of government, Texas because of favorable business climate (energy, low taxes, etc), and Utah for the same reasons as Texas plus a bit of a tech surge. All three states have lower-than-average unemployment rates despite all these new people. In fact, the top six states by percent population growth have unemployment rates below the national average. The next four have higher-than-average jobless rates.