America's Most Depressing Employment Stat
There are any number of woeful statistics that you can cherry-pick to capture the awfulness of America's employment market. Long-term unemployment. Underemployment. Youth unemployment. They're all bad. If you want one number that captures the despair many of the jobless are experiencing, though, check out the workforce participation rate.
Yesterday, James Pethokoukis posted a chart that nicely illustrates what America's unemployment rate would be if so many discouraged workers hadn't simply given up on trying to find a job. Instead of 8.6%, where we're at now, we'd be hovering right about 11%.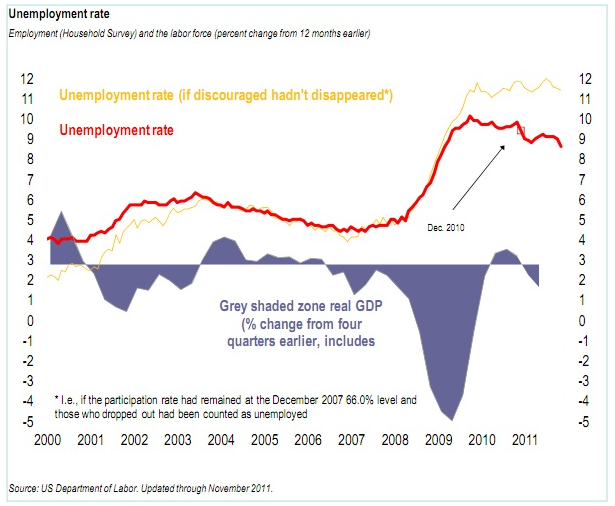 The actual workforce participation rate dropped to 64% this month. That's down from 64.5% a year ago, and 66% at the starting line of the recession. The last time the rate was this low was 1984.

But there's one key difference? Back then, we were on an upswing. The last time the rate was this low and trending downward was in 1980.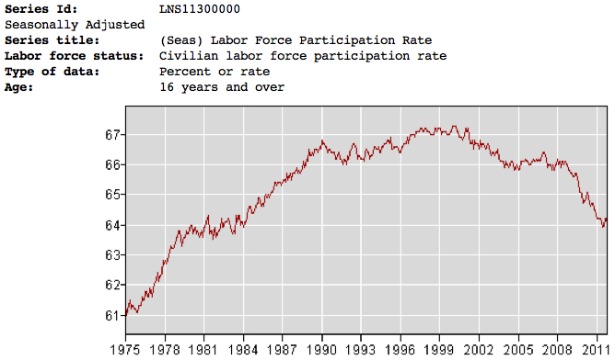 The bad labor market might not be entirely to blame for the change. America's aging workforce could be playing a role too. Pethokoukis quotes a JP Morgan analysis who found the rate would only have fallen to 65.1% if each age demographic had stayed at its pre-recession participation levels. That's a best-case scenario. Some older workers might not be exiting the workforce willingly. And from a public policy perspective, it's still cold comfort. A somewhat smaller portion of the workforce might have given up on the job hunt out of frustration. But even if Americans are simply retiring to spend time with the grandkids, it still means a smaller portion of the country will be paying taxes, while more will be collecting Social Security and Medicare. Either way you come at it, the number is depressing.
>