A Tumultuous Year in Books
Borders fell and Kindle soared as more and more people adopted e-readers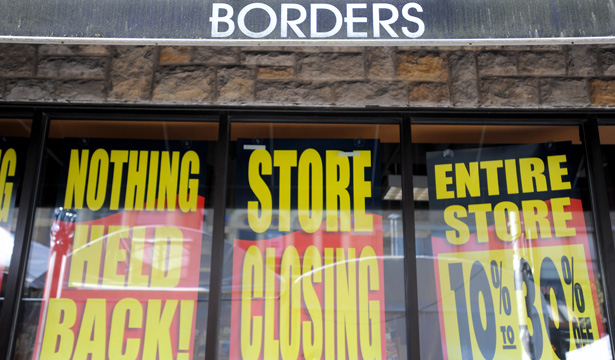 AP Images
This has been a tumultuous year for the book business, a time of profound change in the way books are distributed and read. It is no exaggeration to say that the widespread acceptance of digital devices and a simultaneous contraction of shelf-space in stores qualify as a historic shift. The demise of Borders, the country's second-largest book chain as recently as a year ago, was largely offset by the sale of millions of e-readers and electronic books on a vast scale in a market now dominated by Amazon, Apple, Barnes & Noble, and Google. In May, Amazon announced that it was selling more e-books than print books. On "Black Friday," November 25, Amazon said it had sold four times as many Kindles in a single day as it did in 2010. At this rate, it seems increasingly likely that e-books will match printed books in the next few years, and eventually overtake them.
The popularity of multi-use tablets--Apple's iPads, the Kindle Fire (which has drawn criticism for a variety of technical glitches), B&N's Nook, and several others--has been another dominant feature of the year, serving up thousands of apps for games, music, magazines, and news sites, depending on your choice of device and price. As measured by IHS iSuppli research, and reported in the New York Times, Apple will ship about 18.6 million iPads in this quarter; the Kindle Fire, which went on sale in November, will sell about four million devices; and the Nook tablet will ship 1.3 million. While tablets have scores of uses, e-books have so far held their own as defining attractions in the digital era. Their role is reminiscent of the way DVDs transformed the movie business in the 1990s, posing a major challenge for theaters while expanding the market for players to be used at home.
Bookstores have finally recognized the enormous potential of e-books and the threat they pose to bookstores' future share of the market. Hundreds of independent stores, with the strong backing of the American Booksellers Association, have signed on to a Google-supported system for e-book sales and now need to persuade customers that they can serve them digital products as well as Amazon, Apple, and the other industry leaders. The ABA said that members' website sales were up 60 percent over last year, and that business overall was noticeably stronger.
With so much change under way, it is hardly surprising that there are a number of disputes yet to be resolved that could determine the structure of the business in the coming years. Publishers have managed, at least for now, to prevail in the tug-of-war over the setting of prices for e-books. As long as Amazon's Kindle had what amounted to a virtual monopoly on e-books, from 2007 to 2010, the company was selling the titles most in demand at prices so low they were losing money on them while building a customer base for their e-readers. Over time, publishers assumed Amazon would condition the consumer to those rock-bottom prices and eventually expect the publishers to absorb the loss. But as competitors to the Kindle emerged, particularly the glamorous iPad, Apple and the publishers devised what is called "agency" pricing. Under this model, publishers set the price for books, and Apple takes a 30 percent cut as the retailer.
As explained in the Wall Street Journal, this "became the de facto standard for books written by many of the country's most popular writers because publishers told Amazon it had to abide by the same terms and Amazon complied. The shift effectively ended Amazon's ability to offer sharp discounts or undercut other retailers like Apple." The immediate effect of this policy was to raise the prices of most e-books, although they were still mostly 20 percent or so below that of hardcovers, which carry the considerable costs of manufacture and storage. The latest twist in this story is confirmation recently that the Justice Department's anti-trust division as well as its counterpart in the European Commission is investigating whether the arrangement amounted to an illegal cartel. Class action lawsuits have also been filed alleging much the same argument. Aside from Apple, the targets of the probe are many of the largest publishers in the United States and Europe, including News Corp's HarperCollins, Pearson PLC's Penguin, and Verlagsgruppe George von Holtzbrinck. If the outcome of the investigation or lawsuits confirms what critics contend is a "conspiracy" to fix prices, a settlement will again shake up the industry.
Despite its concession on pricing, Amazon's market clout has continued to grow--for instance, it has become a major source of successful self-published books--and its ongoing negotiations with publishers over sales terms are said to be contentious. The latest talks with Amazon, Publishers Weekly reported, "are being described as less of a dialogue than a dictation of terms. As one source explained, the talks have boiled down to 'what publishers can do for Amazon and not what Amazon can do for publishers.'"
Also unresolved is a lawsuit filed in 2005 by publishers and authors to block Google from pursuing its project to digitize millions of books for library use. While the parties reached an agreement that would establish a registry of the books and a royalty system, it was rejected by the judge in the case as giving Google too much influence over the future use of those books. Meanwhile, Google has continued to scan the books and, according to a recent report from the Reuters Global Media Summit, now has 13 million books in digital formats.
For all the complexities yet to be sorted out, 2011 is closing with a particularly strong group of nonfiction bestsellers, led by Walter Isaacson's fascinating Steve Jobs, Robert K Massie's Catherine the Great, Nobel laureate Daniel Kahneman's Thinking Fast and Slow, Michael Lewis' Boomerang, and Stephen Greenblatt's The Swerve: How the World Became Modern, winner of this year's National Book Award. Whether you choose to read these or the scores of other quality books vying for our attention on a digital device or on the printed page, this has been an unusually exciting year for books and publishing, with the prospect of continued upheaval in 2012.