Who Killed China's Electric Car?
Three years ago, China was set for a revolution in electricity-powered vehicles. So much for that.
Three years ago, China was set for a green auto revolution. But the country's electricity-powered car industry is in stasis.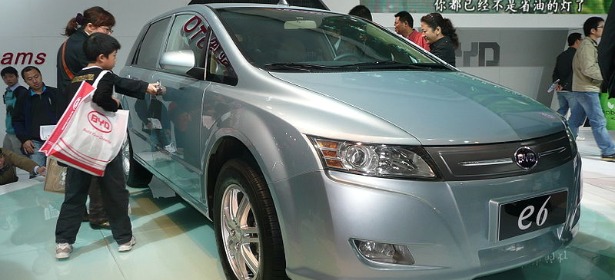 WIKIPEDIA
When Warren Buffett in 2008 bought 10% of Chinese car and battery maker
BYD
(acronym stands for Build Your Dreams), many thought it was the dawning of the Chinese electric vehicles (EVs) age. That "golden era" may yet arrive. Eventually. But in the interim, that dream has mutated into something of a nightmare ensnared in interest group politics and lack of clear strategies.
Take BYD, whose current fate--because it is considered a private sector leader in the EV game--reflects conditions of the embryonic industry at large. A string of negative press has not helped its prospects. For example,
Bloomberg reported
in September that the Shenzhen-based company is planning to issue nearly $1 billion of bonds as it comes under pressure to pay back debt and as sales of its sedans dwindle. Then in late October,
BusinessWeek
followed with
a piece
that said BYD America has not only delayed opening its operations, it has also under-delivered in the number of jobs it claimed it will create in Los Angeles. (The subtext here: "see, Chinese investment in the US does not create 'green-collar' jobs!") Of course, BYD's troubles in the U.S. are linked to its sub-optimal performance in the domestic Chinese market.
Indeed, BYD has likely sold more of its fully electric and hybrid vehicles to government entities than to actual Chinese consumers. Even with limited consumer subsidies, the E6 all-electric model will still cost around 250,000 yuan, or nearly $40,000--sticker shock for the average Chinese consumer in the market for a car that gets you from point A to B. And that's all on top of percolating questions over the soundness of its battery technology.
Beyond BYD, the rest of the industry appears to remain more or less in stasis, with more talk than action. In the department of exaggerated/misleading headlines, this
China Daily
piece
trumpets "Electric taxis to triple in Beijing next year". But what does that actually mean?
Beijing will increase the number of its fleet of electric taxis from 50 to 150 by May 2012, said an official from Yanqing, a county in northwestern Beijing where an electric car pilot operation is underway.

The program in Yanqing is the biggest of its kind in North China, said Wu Shijiang, vice director of the transportation bureau of the county. The 50 electric taxis in operation were developed by Beiqi Foton Motor Co Ltd, the biggest commercial vehicle manufacturer in China in terms of production and sales. 

So that's 150 taxis among how many tens of thousands in Beijing? And reading between the lines, this "county official" is clearly promoting local business interests to garner the attention of higher-level officials. In the absence of an official nod from the Beijing government, it is not entirely clear whether these taxis will even be used at all.
The state of EV development in China is hardly solely the fault of industry or technology. The central government shares a large part of the blame, as it has sent confusing and vacillating signals that confound industry and confuse the market. Despite what initially appeared to be fervent support for EVs, the top leadership has poured some cold water on the sector with recent comments. Premier Wen Jiabao, speaking at a national science and technology association conference in May,
all but admitted
that the leadership itself is unsure about the future direction of the EV industry and that issues ranging from strategy to core technology still need to be resolved.
Wen's comments explain why the ten-year plan on alternative energy vehicles development, which was intended to be released this year, has remained under wraps. That plan was supposed to be one major pillar of China's
21st century industrial policy
 through 2020 and considered a "strategic emerging industry". It appears that major disagreements at the top are driven by a generous helping of bureaucratic interest conflicts. According to the
Economic Observer
, the Ministry of Industry and Information Technology is pushing for the simultaneous development of fuel efficient cars and EVs; the Ministry of Science and Technology is obsessed with promoting EVs from a narrow technological standpoint; and the National Development and Reform Commission seems to support hybrids as a transitional phase toward singular focus on EVs.
Industry is complicit in complicating an already complex situation. Given Beijing's incessant touting of the trillions of investment that will flow to new strategic sectors over the next five years, including EVs, automakers and even major state-owned enterprises (SOEs) do not want to be denied a piece of the money pie. The auto industry already formed its own EV association, only to be followed by the formation of an SOE-dominated EV group that includes the likes of State Grid and the national oil companies. Why the oil companies? Because the "big two"--CNPC and Sinopec--control the vast majority of downstream gas stations, they believe there is profit to be made in retrofitting gas stations to EV charging stations. No one wants to cede ground in case the money spigot starts flowing RMBs.
The government, in essence, is stuck. Walking back on the entire EV program is impossible. But full-throttle ahead at this point seems unrealistic given that no one can decide on a clear path forward. Moreover, the government is most likely correct in assessing that blind pursuit of this program with little foresight can lead to irrational exuberance like what happened with the wind industry.
I have not been particularly bullish on the Chinese EV sector's near-term prospects, and it's unclear to me whether developing an auto industry on par with Japan, Germany, or the US even makes sense from China's macro development standpoint. (In this respect, I agree with Zhu Rongji's
harsh assessment
of creating a domestic auto industry.) Introducing EVs into the Beijing taxi fleet may help mitigate horrendous and unpredictable air pollution, but they won't alleviate the worsening traffic bottlenecks that now regularly choke the city. Even if EVs reduce air pollution, charging them could mean more coal usage--since China is primarily a coal-powered economy--that offset whatever carbon reduction benefits derived from less gasoline consumption in the transport sector. But wait, there's also "indigenous innovation", and wouldn't leading battery technology go a long way toward that goal? Paradoxical objectives, pulled along by powerful interests in different directions, explain much of China's story these days.
Whatever the outcome of this uncertainty, one thing is clear: what was once hailed as a potential EV revolution in China is turning out to be more akin to an incremental evolution.