Unemployment Rate Drops to 9% as the U.S. Job Market Slowly Improves
The economy added between 80,000 and 277,000 jobs in October, as the recovery remained weak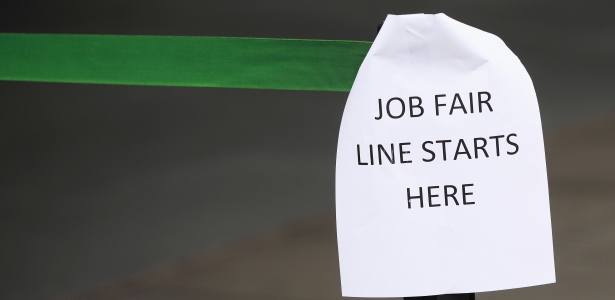 October was another frustrating month for job seekers. The labor market isn't providing nearly enough jobs for the vast population of Americans looking for work, as the unemployment rate ticked down only slightly to 9.0%. How many jobs were added this month isn't entirely clear, but it was likely a number between 80,000 and 277,000. There were some bright spots, but a rate of hiring this slow isn't going to result in a healthy U.S. economy anytime soon.
How Many Jobs Were Added?
Unfortunately, the two surveys that the Bureau of Labor Statistics uses to determine the number of new jobs diverged again in October. The Establishment Survey, which asks businesses how many jobs they added, shows 80,000. But the Household Survey, which asks households whether or not their inhabitants are employed, shows 277,000 new jobs. That's a pretty big difference, so which should we trust?
It's hard to say for sure, but lately the Establishment Survey has been providing some pretty awful initial estimates. For example, the August projection began at zero. It was revised to 57,000 in September. This month it was revised up again to 104,000. Similarly, September's number of jobs added was revised this month to 158,000 from 103,000. One reason why the Establishment Survey might be underestimating the number of new jobs could be that it fails to account for new businesses. So we may see October's number of first estimate of 80,000 revised up in coming months.
But the Establishment Survey is particularly useful, because it helps us to understand how the various sectors are faring. First, here's a chart showing total jobs, private sector jobs, and government jobs:
As you can see, September suddenly looks relatively impressive. The private sector added 191,000 jobs during the month. While the private sector didn't grow quite as briskly in October with 104,000 jobs added, it continues to outperform the broader economy. The government continued to bleed jobs last month, losing 24,000. Almost all of those losses were on the state level.
Here's a sector breakdown for October, providing a bit more detail: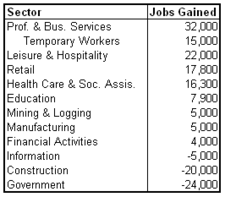 Construction remains an open sore, as the real estate market fails to improve. One bright spot was professional and business services, which added 32,000 jobs. Unfortunately, nearly half of those jobs were temporary. Leisure and hospitality, retail, and health care also improved moderately.
Due to population growth, the economy usually needs to add at least 125,000 jobs to keep the unemployment rate steady. It managed to decline in October because the rate is calculated using the more optimistic Household Survey estimates. Here's how the unemployment rate has looked over the past few years: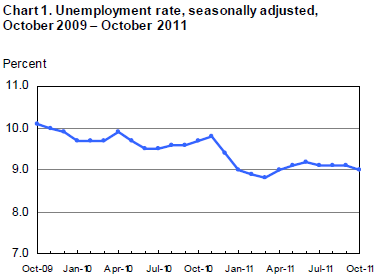 You can see that the unemployment rate has been hovering at or around 9% for the entire year. Although this shows a decline from 9.1% to 9.0% in October, the rate really only declined by 0.07%.
Digging Deeper
Another slightly bright spot from October's report was unemployment duration:
The number of Americans unemployed for 27 weeks or more declined by 366,000 to 5.88 million, the second smallest tally since October 2009. Unfortunately, we can't be sure that all of those Americans found jobs. Some may have become discouraged, technically left the workforce, and weren't counted.
Speaking of discouraged workers, that number dropped a little in October, but an increase in the number of marginally attached workers more than made up for that decline:
The combined number here remains around 2.5 million.
In October, 13.9 million Americans were unemployed. Another 6.4 million jobless wanted work but aren't considered in the labor force for technical reasons. Adding these two numbers together shows that the real number of jobless Americans is probably closer to 20.3 million.
"U-6," the broadest measure of underemployment that includes those unemployed, discouraged, marginally attached, and forced to work part-time, was 16.2% in October. This was down from September, but only matches its August value.
So really, the labor market narrative remained the same in October. Hiring continues at a snail's pace. The economy is adding jobs, but it is doing so relatively slowly. At this rate, it would take about 4.5 years to get the unemployment rate back down to 5%. Although the nation does not appear to be headed back into recession, it also doesn't appear poised to enter a robust recovery.
Image Credit: Reuters/Shannon Stapleton