The Fed Stays the Course, but Leaves the Door to Stimulus Ajar
The U.S. central bank indicates that it will leave its current policies in place, saying that the recovery is on track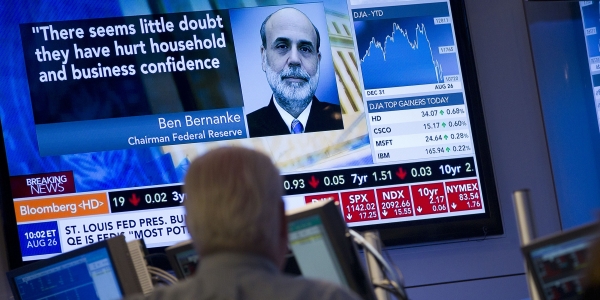 Anyone who wanted to see the Fed throw another life preserver to the anemic U.S. recovery will be disappointed this afternoon. The Federal Open Market Committee's November meeting statement indicated that it will maintain its current policies but adds no new stimulus measures. This comes after two straight months where the Fed took modest actions to try to get the economy growing faster. But the Fed remains willing to consider additional measures to boost the recovery in future months.
Nothing New
Substantively, little changed in the November statement from the September statement. In its economic assessment, the Fed appears slightly more upbeat, noting that growth strengthened in the third quarter. It attributes this in part to temporary factors having dissipated. Yet it says that "significant downside risks" persist. It also remains frustrated in the nation's weak hiring. It expects a moderate pace of growth in coming quarters, which will only reduce unemployment gradually.
It goes on to say that it will continue to keep interest rates very low through mid-2013. It will also move forward with its program to twist the maturity profile of its balance sheet by selling shorter-term securities and purchasing more longer-term securities. It will also continue to reinvest maturing securities to keep the size of its portfolio unchanged.
Thinking About the Future
Even though the Fed didn't take any action in November, we have a few reasons to believe that it could in coming months. First, it says:
The Committee also anticipates that inflation will settle, over coming quarters, at levels at or below those consistent with the Committee's dual mandate as the effects of past energy and other commodity price increases dissipate further. However, the Committee will continue to pay close attention to the evolution of inflation and inflation expectations.
Although the statement said the same thing last month, we are only now seeing inflation begin to fall towards zero. If that trend continues, then the Fed makes clear that it could take action to keep inflation within its low-but-not-zero target range. As before, the Fed also says that it's ready to deploy additional tools to help the economy if it takes an ugly turn.
But another factor also indicates that we could see some pressure for further monetary easing in future meetings: one member of the committee dissented, urging additional stimulus. This is the first dissent we've seen from Chicago Fed President Charles Evans. It's also the first dovish dissent at the Fed since December 2007.
The statement's voting also indicates a reversal from the September meeting. At that time, three hawkish committee members dissented against the action taken at that time to stimulate the economy. They all voted in favor of that same action in November. Either they changed their mind or they just felt like dissenting initially but believe the Fed should stay the course it sets out on. The latter is probably more likely, as the direction of the economy hasn't changed significantly enough to warrant those three committee members having developed a fundamentally different view of the Fed's role.
But with at least one member explicitly calling for more action and with inflation trending down, we could see some Fed easing in the near-term. Yet if the economy maintains its current sluggish rate of growth and if inflation remains low, then we aren't likely to see the Fed provide much additional support.
Image Credit: AP/Jin Lee