The Fed Hints That It Won't Provide More Stimulus
Its November meeting minutes imply that its next move will be better communication -- not additional asset purchases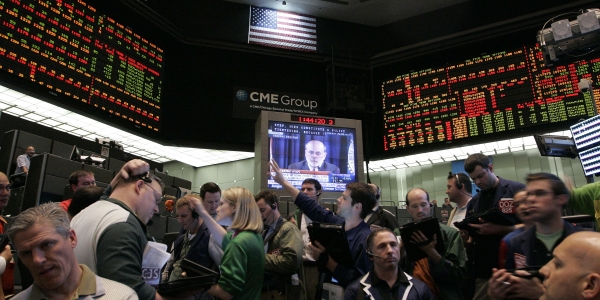 If the market is hoping for relief from the Federal Reserve, then it will find the monetary policy committee's November meeting minutes very disappointing. Although we already knew that no additional stimulus measure were taken by its statement released a few weeks ago, the minutes released today appear to preclude the possibility of a new asset purchase campaign. Even though inflation is declining and the labor market remains stuck, more quantitative easing doesn't appear to be coming.
One key paragraph from the minutes reveals this. Here's the most important part:
A few members indicated that they believed the economic outlook might warrant additional policy accommodation. However, it was noted that any such accommodation would likely be more effective if it were provided in the context of a future communications initiative, and most of these members agreed that they could support retention of the current policy stance at this meeting. One member dissented from the policy decision on the grounds that additional monetary policy accommodation was warranted at this time.
The committee says a few things there. First, only one member (the one who dissented) felt that additional action was immediately necessary. Only a few thought more action "might" be needed. From this, it looks like the majority of members did not think that a new effort from the Fed to push the recovery along would be necessary.
But the news gets worse for those who want stimulus. Most of the committee appears to agree that if additional action is taken, it should be done "in the context of a future communications initiative." You might remember back in August, when the Fed provided more detail about how long it would leave interest rates very low. This may be the sort of thing it refers to when it talks about a "future communications initiative."
So barring any dramatic change in the economy between now and mid-December, if we see any action by the Fed at its next meeting, then it will probably be more detail on its plans and not a new asset purchase program. Reading the rest of the statement further supports this point, since a great deal of time appears to have been spent talking about what sorts of better detail the Fed might be able to communicate to the market. Even if the Fed thinks the economy isn't at it's best, it will first try to use words -- not more money -- to fix it.
The paragraph continues with another interesting tidbit:
With the Committee in the process of reviewing its monetary policy strategies and communication, and no additional accommodation being provided at this meeting, a few members indicated that they could support the Committee's decision even though they had not favored recent policy actions.
You might recall that when the Fed announced its policy to twist its balance sheet in favor of longer-term securities in September, three committee members dissented. But when the Fed kept that action going in its November meeting, they consented. This exceprt appears to indicate that although these committee members disagreed with the policy, they feel that it should be kept in place as planned. In other words, their voting in favor of the action doesn't so much indicate a newfound support of the central bank's intervention here -- just that they want the Fed to continue on the course that it set.
None of this is good news for those who want to see the Fed do more to stimulate the economy. Only one committee member favors easing so strongly that he was willing to dissent. Just a few more think that action might be appropriate. But any such action will likely be a language tweak in the near-term, not more quantitative easing. And we should expect to several of the committee members continue to stand in the way of even such modest new attempts by the Fed to gently nudge the economy forward.
Image Credit: REUTERS/Frank Polich