The Best Show in Town: Murdoch in the Dock
James Murdoch will be questioned in a parliamentary committee about his knowledge of phone hacking at News of the World today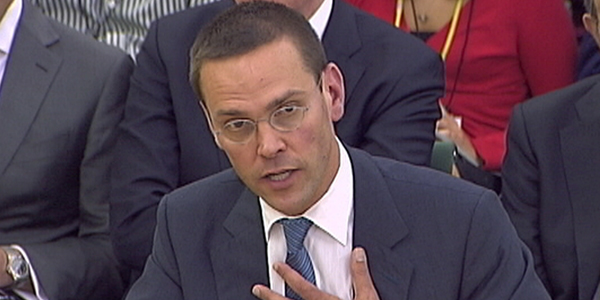 BSkyB Chairman James Murdoch appears before a parliamentary committee on phone hacking at Portcullis House in London / Reuters
There are at least 50 plays on offer in London at the moment, from the musical extravaganza Billy Elliott, which has been running for six years, on the West End, to Yerma, at the tiny, fringe Gate Theater in Notting Hill. But today, the best show in town is to be performed in a drab room at the British House of Commons.
The spotlight will be on James Murdoch, the media executive, as he is grilled by a parliamentary committee about what he knew about phone hacking at News of the World, one of the company's tabloids here -- until his father, Rupert, closed it in the wake of the phone hacking scandal.
Put most succinctly, the line of the Murdochs, pere and fils, has been that they were not aware of widespread phone hacking at the newspaper. It was the work of a "rogue reporter," they said after News of the World reporter Clive Goodman pleaded guilty and was jailed for was jailed for his involvement in illegally intercepting phone messages. A private detective, Glenn Mulcaire, paid by the paper for his phone-hacking talents, was also jailed.
Documents recently released by the committee on Culture, Media and Sport, which is conducting the hearings, undermine that defense
James Murdoch last appeared before the committee in July, when he skillfully dodged efforts by some committee members to establish that that there was a "culture" of illegal hacking at the Murdoch papers, and that Murdoch himself was aware of it. James, 38 years old, was flanked by his octogenarian father, who at times conveniently seemed to forget his lines. Behind them sat the senior Murdoch's wife, Wendi Deng, who delivered the most memorable performance of the hearing when she delivered a roundhouse punch to the man who threw a pie in her husband's face.
Surely, he must have been aware of it, some committee members argued, particularly in light of the company's settlement of an invasion of privacy lawsuit brought by a prominent soccer player, Gordon Taylor whose mobile phone was hacked. The case was settled for £700,000 (slightly more than $1 million) -- and a confidentiality agreement that swore Taylor to not reveal the settlement. The phone-hacking scandal erupted after The Guardian reported the confidential settlement in late 2009.
It was a remarkable sum to pay in an invasion of privacy case, well over twice what any court had ever awarded.
Didn't this amount reflect that he was aware of what would come out if the case went to trial, and that it was basically paid to buy Taylor's silence, Mr. Murdoch was asked in July.
"No. Not at all," Murdoch insisted. It was based on advice from the company's lawyers about how much they might lose if it went to trial, he said.
James Murdoch is expected to sit alone today at the schoolhouse table, and he may have a tough time hewing to his previous lines.
Ten days ago, the committee released several documents that will surely be in front of the parliamentarians today, though their ability to utilize them effectively is in doubt based on past performances.
One was a memo marked "strictly private and confidential," written by a senior lawyer at News International, Tom Crone, regarding the Taylor case.
In preparation for their case, Taylor's lawyers had obtained, through another court proceeding, internal News of the World emails. "Our position is very perilous," Mr. Crone wrote, because the emails showed that "we actively made use of a large number of extremely private voicemails" from Taylor's phone.
Outside counsel hired by the Murdoch company to look at the case was even more damning. "There is a powerful case that there is (or was) a culture of illegal information access at NGN [News Group Newspapers] in order to produce stories for publication," the lawyer, Michael Silverleaf wrote in a formal opinion in June 2008.
Murdoch is expected to tell the committee today that he did not see this opinion at the time. If the committee members cannot shake him on this--and, like their American counterparts, they often seem more interested in delivering prepared politic remarks than in obtaining the facts--News International shareholders might want to ask what kind of stewardship Mr. Murdoch was providing if he did not read this memo.
The documents would also seem to belie Mr. Murdoch's assertion that the million-dollar settlement was not meant to buy Taylor's silence. Mr. Silverleaf's opinion was that a court might award Mr. Taylor anywhere from £25,000 to £250,000.
In protracted negotiations, Mr. Taylor's lawyers said their client wanted substantially more "not to open his mouth," according to internal News Group documents released by the committee. In the end, the company paid £700,000.
The curtain goes up at 11:00 AM London time. It should make for good theater.