South Korea's Hottest IPO: Boy Band, Inc.
Korean investors are going crazy for the country's biggest music labels. But are they just betting on a fad?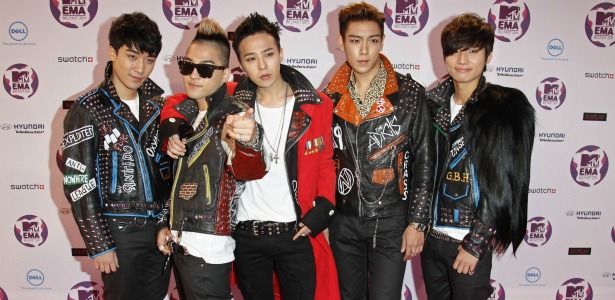 Reuters
For the past month, the biggest story in South Korea's stock market has centered on a five-piece boy band called Big Bang, and a couple puffs of marijuana.
News that the Big Bang's front-man had reportedly tested positive for pot threatened to put a crimp in the initial public offering of YG Entertainment, the label responsible for some of the biggest acts in Korean Pop. The concerns were for naught. Last week, buyers snapped up YG Entertainment's stock like teenagers trying to score tickets to their favorite boy band's show. The company's share price more than doubled on its first day of trading, reaching roughly $67 as buyers ordered 561 times more stock than was available. Its market cap now sits at roughly $340 million.
Mapping the new global power structure
See full coverage
The frenzy of Korean pop (aka K-Pop) today might be hard to believe considering the state of the music industry. To better understand its ascension, let's draw an analogy. YG is vastly different from the major U.S. and U.K.-based labels that now dominate the industry. It's more like Motown, circa 1965. That's the year that The Supremes scored their fifth straight No. 1 hit on the Billboard Hot 100, cementing Hitsville U.S.A.'s crossover dominance in American pop. It was the kind of achievement that would have been unthinkable half a decade before in the mostly segregated music market. Like, Motown, YG is relatively tiny. Its roster includes roughly a dozen music acts. Also much like Motown, which picked up Stevie Wonder at age 11, it it recruits its stars while in their early teens, writes and produces their songs in-house, and manages their careers. And just as Motown went from R&B radio to the top of the pop charts, K-Pop is looking to break out of its home country and onto the world stage.  

Now imagine if Motown owner Berry Gordy gathered all of his talent -- Stevie, The Temptations, and Marvin Gaye among them -- to make a big announcement. "Crew, it's been a hell of a run. I've been talking to the bankers out in New York. We're going public!"
SEOULTOWN
The hysteria around YG Entertainment is just part of a bigger story about South Korea's emerging status as Asia's new pop culture capital. As Patrick St. Michel wrote for The Atlantic in September, Hallyu, or "Korean Wave," has already invaded Japan. And many believe the country's brand of candy-colored, over-the-top hit making is ready to go even bigger. Already, there are early signs. Adoring crowds in Paris. A show at Madison Square Garden. And, as required for any global phenomenon, tens of millions of Youtube views.
Investors, certainly, are among the faithful. YG's two biggest competitors, including top K-Pop label S.M. Entertainment Co., have seen their stock prices triple during the last year, even as stocks in South Korea have slid overall.

You'd be excused for asking what the heck is going on. In a world where Germany can barely sell its bonds and millions of people don't even pay for music, how could club-ready pop be a sure-fire bet?
It's probably not. On the one hand, YG's Motown-like system for managing talent, known as "YG Familism," gives it an enormous amount of control, both over its sound, and its branding. But it also limits the company's flexibility. Each new group is a big investment. And as anybody who's ever watched VH1 knows, music acts are pretty much the furthest thing possible from a reliable investment.
Take Big Bang. The boy band was responsible for more than half of the company's revenue in 2010. But the company had to delay its IPO lower its valuation in October after group leader G-Dragon tested positive for marijuana. American music fans might have gotten worked up over Miley Cyrus' "Salvia" use. But it didn't end up costing anybody their shirt.
YG plans to use the cash from its stock sale in order to expand and diversify its roster. But even if they can broaden their number of money-making acts, there's also another unpleasant reality: K-Pop might be on the verge, but it hasn't truly hit it big time yet. According to analysts quoted in The Korea Times, YG and its peers have yet to prove their bankability in Japan, or elsewhere. Per the Times:
"The success of hallyu in the United States or Europe is exaggerated. The Japanese market is the most fundamental, and there is certainly a possibility for more success," said Kim Si-oh, analyst at Korea Investment & Securities, downplaying this year's hype surrounding Korean pop music's overseas popularity.



"The concerts (of competitor SM Entertainment this year at Madison Square Garden in New York and Le Zenith of Paris) do not signify anything substantial: they are just singular events. Long-term business models have yet to be materialized. 2NE1 (YG's distant second act) staged a smallish performance this year in Japan, but next year YG hopes to attract audiences of up to 40,000. Next year's concerts there will make or break the company."
So right now, the Korean markets are betting on potential, both for the companies, and for the country's ability to export its culture. Would you have bet on Detroit and Motown in '65? It might have worked out, at least in the short run. But to borrow from the title of one big Korean hit, you have to wonder if this bubble is going to pop.
>