Organic Farm Prepares Veterans for Jobs in Sustainable Agriculture
At Archi's Acres in California, military veterans can learn organic production methods, farmers market management, and irrigation installation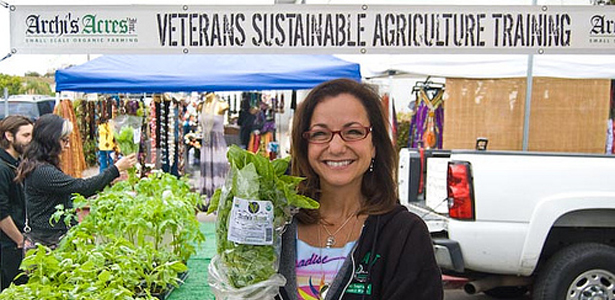 Allow me to introduce you to Archi's Acres, an organic farm in California that trains military veterans in sustainable agriculture skills. It is veteran-owned as well as veteran-serving.
The military was a big deal in my childhood home. My father was a Purple Heart veteran of the Normandy campaign and Battle of the Bulge in World War II. He was among the most peaceful men I have ever met, yet he remained connected to his branch, the U.S. Army, throughout his life, both as a reservist and as a civilian employee at the local armory. His old World War II unit had reunions every couple of years. Although for many reasons the military wasn't for me, I have tremendous respect for those who serve.
I also know that my father really struggled with finding post-war employment, and that veterans today face the same challenge. So it was a real treat to find Archi's Acres on the Web. (I just entered "veterans" and "sustainability" into a Google search. Amazing.) I am majorly impressed by what I have read on their site and from others who have written about them.
I can't improve on this introduction from their home page:
Archi's Acres is a small-scale organic farm in Southern California established in 2007 by Colin and Karen Archipley. We are a pro-American, pro-veteran company that utilizes innovative growing techniques to produce inexpensive, organic, locally grown food. These techniques maximize efficient use of our precious available resources, ensuring the sustainability of our planet. Our goal is to augment and accelerate (exponentially) the agricultural revolution across America, in partnership with our military veterans.
What an outstanding concept.
At the heart of Archi's endeavors is the Veterans Sustainable Agriculture Training program, which provides 270 hours of education and job training in the following categories:
Sustainable Agriculture
Organic Production Methods
Hydroponics
Green House Production
Irrigation maintenance and installation and sales
Farmers Market management
Farm ownership and or Farm Management 
The farm also offers help in business planning and skills. Tuition isn't cheap, but the site says there is assistance available.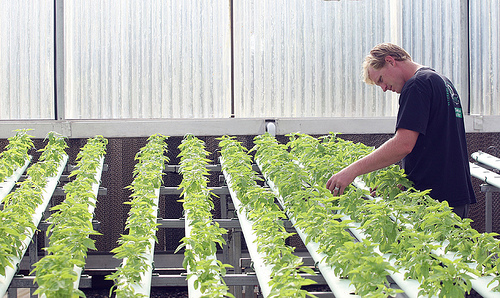 Based in Southern California, it was natural for the Archipleys to emphasize water efficiency in their operations, eventually achieving an estimated 80 percent reduction in water consumption compared to more conventional farms. Gloria Taylor Brown, writing in Natural Awakenings, describes Archi's Acres this way:
Working together, the two created a model system of soil-less hydroponic, organic farming that can be duplicated in any location, even an inner city parking lot or abandoned building.

When Colin returned from combat for the last time, Karen realized that she needed to somehow help him continue to serve his country while being in the presence of fellow veterans. Her solution was to suggest the concept of the VSAT program, and together, she and Colin formulated the idea of training returning veterans how to create their own farms....

Today, Archi's Acres is a sustainable, hydroponic, organic farm, with two greenhouses and three open-air growing areas; it produces continuous crops of basil, lettuce, chard, kale, and heirloom tomatoes in a state-of-the-art, soil-less facility. Selling to Whole Foods, Jimbo's Naturally and directly at local farmers' markets in Hillcrest and Rancho Santa Fe, Karen's smiling face is a testament to the success of her plan.
The Archipleys told a San Diego TV station that, with two-thirds of family farmers nearing retirement, the federal Department of Agriculture is seeking to create 100,000 new farmers per year over the next five years. They believe that veterans -- who acquire motivation, leadership and management skills while on duty -- can help. They add that it doesn't hurt that 45 percent of the military come from rural communities, as opposed to one-sixth of the general population.
Here's how the website puts it:
At Archi's Acres we have created the Veterans Sustainable Agriculture Training (VSAT) program to offer our combat veterans meaningful employment opportunities in the high-growth industry of sustainable farming. Our philosophy is to call up and redirect our veterans' attributes of leadership, tenaciousness, [and] adaptability, as well as willingness to take on severe challenges, self-knowledge, and appetite for continual improvement.

We have bet the farm on these well-disciplined and hard-working veterans whom we trust to continually challenge themselves to achieve the highest standards in plant production.
For an insightful, personal take on Archi's Acres, I recommend Jon R. Anderson's well-written story in Military Times Edge. And, to get the visual context and meet the Archipleys, check out this nice video segment from KPBS in San Diego:
This post also appears on NRDC Switchboard, an Atlantic partner site.