Lawyers Cashing In on Banks' Misdeeds and New Regulation
Mortgage lawsuits, new consumer protection rules, and financial reform will be a boon for the legal industry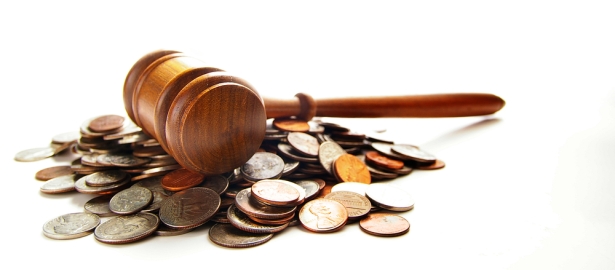 The more consumers and investors feel wronged by banks, the better business gets for attorneys. As mortgage-related lawsuits continue to drag on and new financial regulation implementation begins, lawyers should have no trouble finding billable hours. Earlier this week, we saw an example of how much lawyers stand to gain as these cases begin to wrap up though Bank of America's class action settlement over excessive overdraft fees. We should expect banks' legal bills to continue to pile up.
The Overdraft Settlement Score: Consumers $410 million, Lawyers $123 million
Bank of America customers who were charged excessive overdraft fees for electronic transfers will be pleased to hear that they may be eligible for some compensation. A court approved a settlement this week where BOA will pay $410 million to 1 million class-action plaintiffs. Through those numbers, we can see that these consumers will get an average of around $410 each.
That's not bad, as Bloomberg reports that it will amount to as much as 45 cents on the dollar for their claims. But the real winners here were the lawyers. They will reap $123 million in fees, which amounts to 30% of the award. And how many lawyers will this be split among? This isn't clear, but it can't be more than a couple dozen. Even if an implausible large staff of 123 lawyers was involved, the payout would average to $1 million each.
Just the Beginning
Of course, the litigation that big banks face over mortgages dwarf the ongoing litigation related to credit cards. They're being sued by the state attorney's general over the foreclosure procedures. Investors are demanding damages for allegedly botched securitization procedures. And individual homeowners are also trying to get money for other various alleged mortgage misdeeds.
It isn't hard to imagine many billions of dollars paid out by banks over the next few years to settle as banks rush to settle as many of these lawsuits as possible. Like we saw with the overdraft suit, consumers will likely get something here. But millions of people have been foreclosed on over the past couple of years, so even an award in the billions could be spread pretty thin if broadly distributed. Think about what this means for lawyers: awards in the billions could very easily mean legal fees in the hundreds of millions -- or even billions. And while the number of lawyers involved in such lawsuits is great, it isn't nearly as large a number as those who have suffered from foreclosure. Again, the reward for lawyers will be disproportionate.
Business Won't Stop There
Even after these lawsuits are settled, lawyers will remain busy. New financial regulation will result in lots of advisory fees for lawyers. Working out the kinks will no doubt create lawsuits brought by banks. This was noted a few months ago by the Ben Protess in the New York Times DealBook blog. One source quipped that the Dodd-Frank bill is the "full employment act for derivatives lawyers."
The new Consumer Financial Protection Bureau could also be a boon for litigators. When it begins its rulemaking, lawyers will have lots of new laws to monitor. As some banks fail to keep up with the great regulatory burden that results, mistakes will be made and attorneys will be there to capitalize.
So although we often read that too many people are graduating from law school these days and that some law firms are having trouble in this tough economy, it may just be a matter of focus. Any lawyer looking to keep busy and make lots of money would be well-served to specialize in consumer protection or securities law. It might not be the most exciting work, but it sure does pay.
Image Credit: Zimmytws / Shutterstock