Growth Revised Down to 2%—Should We Be Worried?
Firms cut inventories for the first time since 2009, which either indicates that hiring will slow or flourish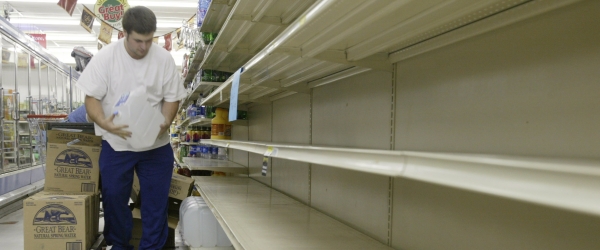 Apparently even a modest 2.5% rate of growth is too good to be true. Third quarter GDP growth has been revised down to an annualized rate of 2.0% today by the Bureau of Economic Analysis. Although most components shifted a little here or there, inventories were major reason for the big revision. Is this good or bad news?
First, here's how the GDP chart looks now, with the new revision for the third quarter: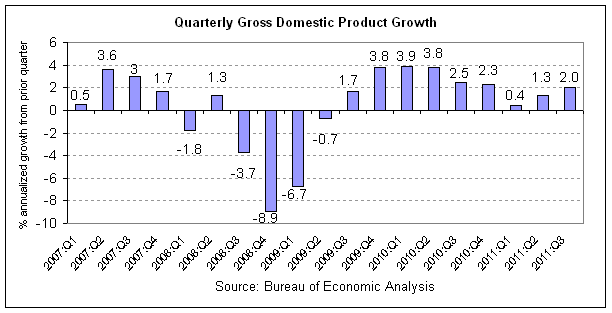 You can see just how weak 2011 looks. Every single quarter in 2011 has exhibited weaker growth than any of the previous five quarters. The recovery just can't find firm footing. The annualized rate of growth through the first three quarters of 2011 is just 1.2%.
A big reason for the revision was that inventories shrunk by $8.5 billion during the quarter. Initially, they were thought to have grown by $5.4 billion. This change results in third quarter marking the first time when businesses allowed inventories to shrink since the fourth quarter of 2009 -- when hiring first turned negative. The following chart shows why today's revision might provide some cause for concern: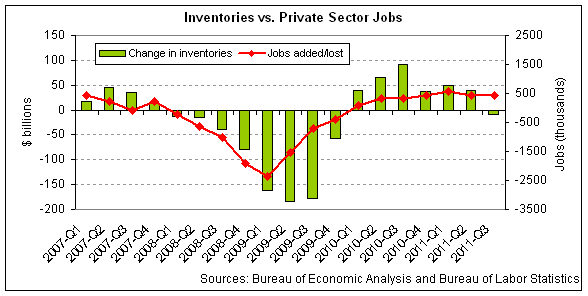 As you can see, when firms are liquidating inventories, bad things tend to happen to jobs. It might be particularly surprising to see firms cut inventories in the third quarter, as the holiday season approaches. In the third quarter of 2010, inventories rose by an aggressive $92.3 billion.
The chart above might hint that job losses are coming, but consumer spending tells a different story. Here's how it has changed over the same period: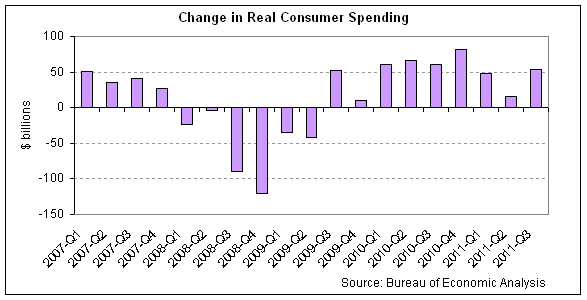 In fact, spending was relatively strong in the third quarter -- it grew by the most since 2010. So demand is actually improving. What could be going on here is that firms aren't hiring aggressively enough to respond to that new demand, so they were forced to liquidate more of their inventory than expected. This would actually be a very positive development, as it implies that companies will have to hire more aggressively in coming quarters to keep up with sales growth.
So we'll have to see how the economy does over the next few months. Although growth is certainly weaker than would be ideal, the reason for this revision isn't necessarily a signal of coming economic doom. It could just be that firms were too pessimistic and have already begun realizing that they must hire more workers to keep up with demand. That could mean stronger job growth in the latter part of 2010 and early 2011.
Image Credit: REUTERS/Jason Reed