Chart of the Day: Is the Housing Market Finally Bottoming Out?
When Fannie Mae reported its latest quarterly loss late Tuesday, it also provided some good news: home prices aren't falling as steeply as they have over the past four years. In fact, prices may barely decline in 2011. Does this indicate that the housing market is finally nearing its bottom? It may, but we have little reason to believe 2012 will be a great year for home prices.
Here's the chart showing Fannie's home value index from its third quarter credit supplement: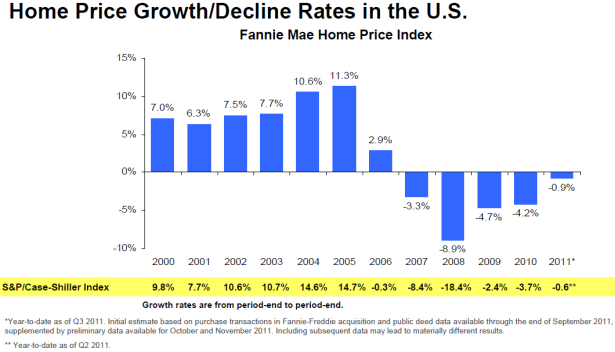 As you can see, through the third quarter home prices haven't even declined 1%. Although the fourth quarter numbers aren't accounted for here, we'd have to see a pretty sharp decline for 2011 to near the 2010 decline.
And the decrease that Fannie is showing here appears to be in-line with the S&P/Case-Shiller Index move for 2011 thus far. The Fannie Index is a little different from the S&P/Case-Shiller Index, however. Fannie's provides a better estimate of the median home price decline, since its index is weighed by number. S&P/Case-Shiller's Index weighs by property value, which provides a better average. S&P/Case-Shiller also includes foreclosed home sales, which Fannie argues exaggerate market value declines.
From the chart, it looks like Fannie and S&P/Case-Shiller both agree that home price declines are slowing. Does that mean happier days are coming for the housing market? Not necessarily.
The big caveat here is that foreclosures have been artificially slower this year due to banks revamping their processes after flaws were exposed a year ago. So shadow housing inventory still remains very significant, while visible inventory hasn't been growing by as much as it should be. In Fannie's quarterly earnings report, the company suggests that 2012 will likely see more foreclosures than 2011 as processes speed back up. As home inventory begins to increase faster, we might see additional stress on home prices.
For the housing market to hit a bottom, we must also assume that the economy is on the mend. If something goes terribly wrong in Europe and the U.S. is struck with contagion from a European financial crisis, then the anemic recovery could turn into another recession. If unemployment begins rising again, then home prices will certainly have trouble stabilizing.
Even if all does go well -- if the recovery strengthens and housing inventory doesn't increase too significantly as foreclosures speed back up -- we shouldn't expect to see home prices rise like they did in the early 2000s. Remember, that was a bubble. Generally, home prices rise approximately as quickly as inflation. So even when the market has hit bottom, we should expect a modest 2% to 3% annual rate of appreciation in most local markets.