Chart of the Day: Initial Unemployment Claims Hit 7-Month Low
As the market is fretting over Europe, it mostly shrugged off some good news about the U.S. labor market today: initial jobless claims hit a new 7-month low. This is a fairly volatile statistic and doesn't give a full picture of unemployment, but it is helpful in understanding how layoffs may be trending. And if recent numbers are any indication, then the news is good.
Here's the chart: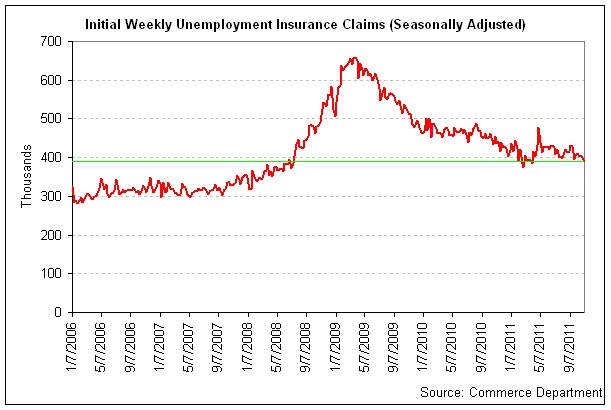 You can see from the bright green line how the week ending November 5th compares to other weeks over the past several years. At 390,000, it was the lowest tally since the week ending April 2nd. We saw initial claims fall below this level only briefly earlier this year. Prior to those couple of months, you have to go all the way back to July 2008 to see initial jobless claims below 390,000.
Of course, way back then, the national unemployment rate was a delightful 5.8%. These days, it's more than 50% higher. The problem now is clearly one of hiring -- not firing. Although layoffs have been slower in recent months, hiring hasn't been much faster. The result is a relatively low number of initial jobless claims but few net new jobs created.
Still, if this trend continues, then it's good news for the labor market. Layoffs have been a persistent headwind for job creation. As they continue to slow, even a relatively low number of gross new jobs will begin to look like a somewhat stronger number of net new jobs. That is, if Europe doesn't manage to cause this curve to creep back up like in late-April.