Chart of the Day: Consumer Confidence Is Improving
Americans didn't feel great about the economy this summer. Consumer sentiment surveys all agreed that confidence was falling. While consumers still don't have a particularly cheerful opinion of the economy, sentiment does appear to be improving. The Reuters/University of Michigan Surveys of Consumers preliminary consumer sentiment reading for November, released today, was the highest since June. Let's look at the trends among three major surveys.
Here's the chart:*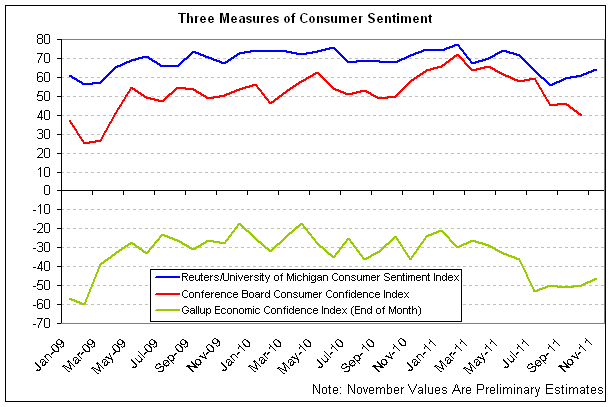 These only show the change since 2009. By then, all were quite low, as the recession was near its climax. But as you can see, they haven't risen much from even those 2009 levels.
However, we have seen some pretty modest improvement lately in the Reuters/UoM index. It has been steadily climbing since September. The Gallup index's ascent has been a little slower, but also appears to be an upward trend. The real outlier is the Conference Board. It declined sharply in October. Later this month when its November value is released, however, we might see it increase significantly. If it doesn't, then its trend won't at all fit with what we're seeing from the other major surveys.
A boost for consumer confidence couldn't come at a better time for retailers, as they gear up for the big holiday shopping season. But unless we see a relatively steep increase in sentiment between now and the holidays, it will still be lower than it was during the in the 2010 holiday season. That likely means weaker sales for retailers.
---
* A couple of notes here: First, the November Reuters/UoM index value is a preliminary estimate. Second, the Gallup index value used was from November 7th, while all other values on its curve are from the last day of the month.