Chart of the Day: 12% of Recent Gulf War Veterans Are Unemployed
In October, the unemployment rate declined a little -- but not for recent Gulf War veterans. While the non-seasonally adjusted national rate fell to 8.5% from 8.8% in September, the rate for veterans of the post-9/11 Gulf War rose to 12.1% from 11.7%. Throughout the recession, this group of vets have had a relatively tough time finding work.
Here's a chart updated through today's October report. It shows the unemployment rate for three different groups of veterans and non-veterans. Note that all of these numbers are not seasonally adjusted, because that's the way the Bureau of Labor Statistics provides them.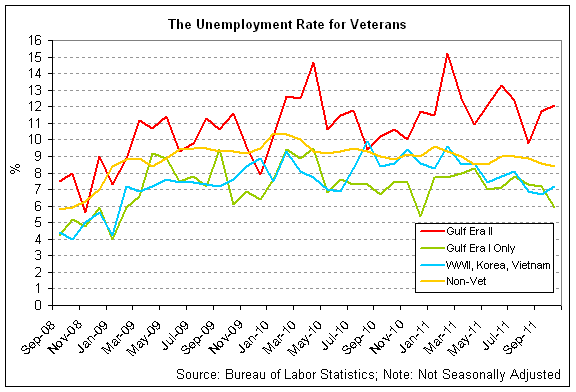 You can see that older vets are actually doing relatively better than non-vets. But veterans of the second era (post 9/11) of the Gulf War are doing significantly worse than everybody else. Their line appears somewhat noisy because there are relatively few of them. But even with all that noise, their unemployment rate is clearly worse than that of the other groups.
Finding work is hard right now no matter what your background, but there may be a few reasons why the unemployment rate is so high for this group of veterans. First, the timing couldn't be much worse. As the wars wind down in the Middle East, more veterans are coming home, but hiring is very weak. Second, the sorts of jobs that might be a natural fit for veterans are particularly hard to come by right now. Government is one of the most challenged sectors, which means that new federal defense-related jobs are scarce and local law enforcement jobs may actually be declining in some areas.
The chart above puts a particularly depressing spin on the current job market situation. Although unemployment is bad no matter who is suffering, the very high jobless rate for Americans who have put themselves in harm's way for the good of the nation seems a grave injustice. President Obama's new jobs bill did contain a provision to provide employers a credit for hiring veterans. Although most of the bill stands a poor chance in Congress, Republicans reportedly back this provision. If it passes, let's hope it begins to remedy this problem.