Black Friday Blues: Consumers May Buy Less This Year
Americans are bummed about the economy, with sentiment the lowest in November since 2008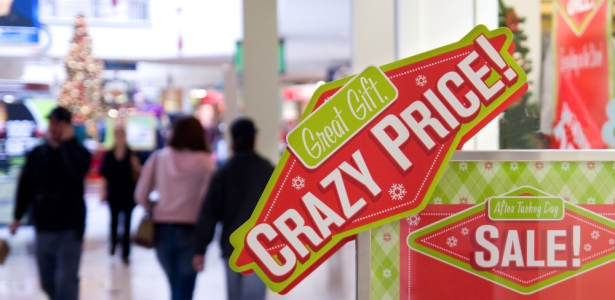 This year, even without Thanksgiving leftovers causing indigestion, Americans might not be so psyched to shop over the holiday weekend. That dull ache in the pit of their stomach will instead be caused by their pessimism about the path of the U.S. economy. Heading into the biggest shopping weekend of the year, consumer sentiment hasn't been as low since 2008. That might be bad news for retailers, as Black Friday shopping could suffer.
Black Friday sales are a little bit complicated to predict. On one hand, lots of shopping during the weekend often foreshadows more spending during the remainder of the holiday season. On the other hand, lots of shopping during Black Friday weekend in particular could be a symptom of broader penny pinching: unbeatable deals can be found in the days following Thanksgiving. Although this disparity makes it a little harder to know why consumers are spending more or less over Black Friday weekend, let's look at some history.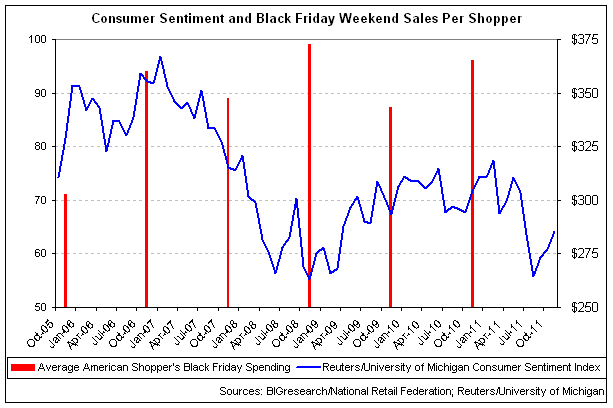 First, let's focus on the red bars, which show the average Black Friday weekend spending per shopper since 2005, provided by BIGresearch through the National Retail Federation. It seesawed over this period. The blue line represents consumer sentiment, according to a monthly survey compiled by Retuers/University of Michigan.
One surprising result is that average Black Friday weekend spending actually peaked in November 2008. This might seem strange, since no November over the period shown had nearly such weak consumer sentiment. This could be explained in a couple of ways. First, there's the possibility that most Americans didn't realize how bad of a storm was coming. Second, spending could be more closely correlated to unemployment, which was only 6.8% at the time. Third, we could be seeing the deal-seeker phenomenon mentioned earlier.
If the unemployment rate has a lot to do with holiday shopping, then the big drop in 2009 would make sense. It had risen to and peaked at 10.1% that October, which was the last reading consumers would have seen before Black Friday weekend. Still, spending rose in 2010 when unemployment remained quite high -- at 9.7% in October of that year. It was 9.0% in October of this year.
But sentiment is actually worse right now than it was during the same month in 2009 or 2010. After a summer slowdown, only recently have Americans begun to feel like the U.S. might not face a fate as dire as a double dip, but they expect the economy to remain weaker than would be preferable. The hope for a stronger recovery, which was alive in late 2009 and still lingering in late 2010, is now all but dead.
Relatively high unemployment paired with consumer pessimism could be a lethal combination for Black Friday weekend this year. It's hard to see why Americans would feel better about spending more now than they did over the past few years. But this also depends on the effect of bargain hunting. A stronger Black Friday weekend this year could just translate into a very weak period of holiday shopping in the weeks that follow.
Image Credit: Kenishirotie / Shutterstock