Are Overly Cautious Lenders Killing Home Sales?
Existing sales may fall short of 5 million this year, as contract cancellations soar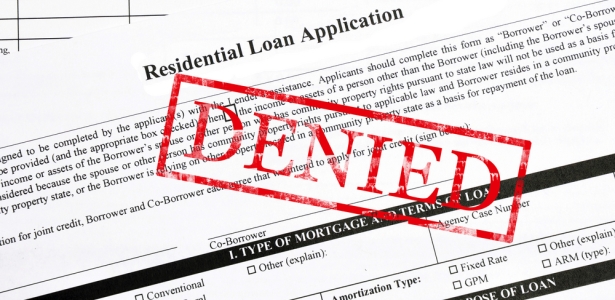 As 2011 nears a close, it appears to have been another very weak year for the U.S. housing market. As the nation's economy struggles to improve, it isn't getting any help from residential investment. At this point, the number of existing home sales may end up below 5 million for the third time in four years. Home buying demand is still much softer than it was even before the boom years, but stricter lending is becoming a more significant part of the problem.
Another Sub-5 Million Year?
Monday morning, when the National Association of Realtors announced the annualized rate of 4.97 million existing home sales in October, analysts weren't doing cartwheels. Although the result beat expectations, it made for a mere 1.4% increase over September. It also marked the sixth month so far this year when the rate of sales had been below 5 million.
Sales will have to be relatively strong in November and December for the year's tally to exceed 5 million. If we assume that sales grow at the rate of 1.2% (the average for the 10 months of 2011) in both months, the annualized rates for November and December would rise slightly above 5 million. Here's how those two months would fit into the broader trend.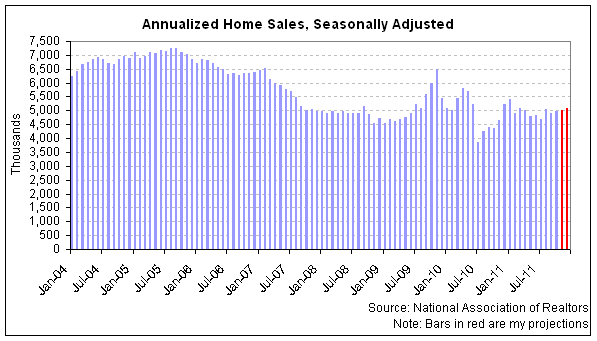 While this looks like it would be a pretty strong two months compared to 2011's recent performance, sales soared in December 2010. The relatively robust sales seen in December and January were short-lived, however. Sales fell in the months that followed.
Using the same projections for November and December, the total annual existing home sales would come in at around 4.96 million. Here's how 2011 would stack up: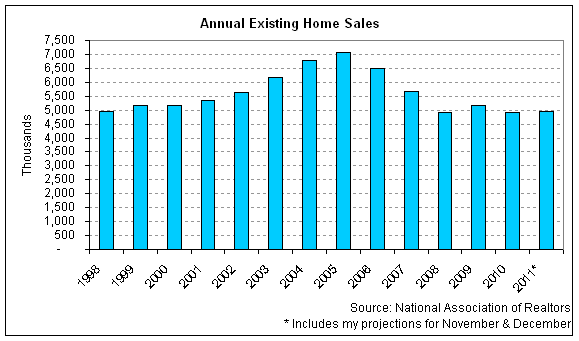 In fact, this looks somewhat in line with what the market looked like before the bubble really started growing rapidly. Although sales soared to more than 7 million in 2005, in 1998 they were approximately what they are projected to be in 2011.
The bigger problem, of course, is new home sales. They remain at near historic lows. This year, they'll probably end up being a little over 300,000. In 2005, they were 1.3 million. Even in 1998 -- the same year when existing home sales were just under 5 million -- new home sales were close to 900,000. So buying demand for existing sales isn't that terrible, but demand for new homes is very, very weak.
This trend should be expected to continue as the market experiences high inventory levels. Relatively few additional single-family homes are going to be built when consumers can be satisfied by the existing homes already for sale.
Crazy Cancellations
But the housing market faces another headwind as the year closes. The existing home sales report briefly notes that monthly contract cancellations are rising. In fact, they were way up in October: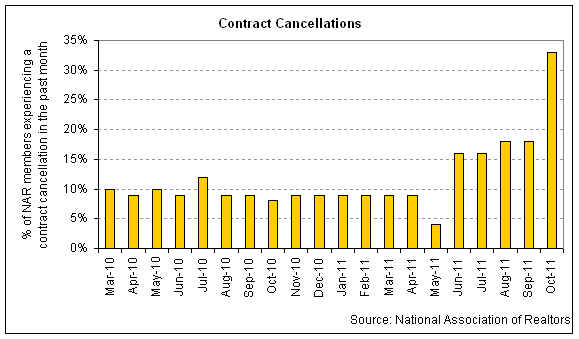 The NAR creates an index of realtor confidence. In doing so, it asks realtors if they experienced a contract cancellation in the past month. The cancellations percentage above shows the portion who answered "yes." In October, an incredible one-third said that they have experienced a contract cancellation. That's up from 18% in September and just 8% a year earlier.
October cancellations may just be a blip, but the data shows a consistently higher level of cancellations since June. In the later part of 2011, they have been about twice as common as they were throughout 2010 and early 2011. Cancellations can occur from lenders declining mortgage applications, appraisals coming in below the negotiated price, or other problems that prevent a contract from closing. For example, if a bank can't get enough nearby and accurate property comparisons for a property, then an appraisal may have to rely on a deeply-discounted foreclosed home sale in the area, causing the appraisal to come in lower than anticipated.
While banks should be more selective about handing out mortgages than they were a few years ago, their conservative underwriting may now be more clearly contributing to the weakness of the housing market. The NAR's cancellations index appears to show that home sales would be significantly stronger in recent months if contracts had gone through as expected. NAR estimates that sales would rise by as much as 15% to 20% if lenders weren't being so stingy. Have banks gone too far in their efforts to avoid bad loans and begun denying loans that would perform soundly?
Image Credit: Stephen VanHorn / Shutterstock