American Auto Companies Are Still in the Truck Business
Detroit's automakers are strong enough that even Chrysler is turning a profit. The savior? Good ol' fashioned trucks are back.

Remember back before the Great Recession when gas prices surged to well over $4-a-gallon and America's biggest auto companies, so reliant on truck sales, nearly went up in smoke? Well, four years later, Detroit is partying like it's 2005 all over again.

Take Chrysler, long maligned as the biggest basket-case in America's ever-turbulent auto industry. The company has been on a winning streak of late. Last week, it announced its second quarterly profit since 2006. Yesterday, it posted October sales up 27% over last year.
That's a good thing, considering the risk American taxpayers took in salvaging the company as it teetered on collapse in 2009. But Chrysler's success underscores an important point about the state of U.S. car making that's gone largely under the radar: Trucks are back, and they're carrying Detroit to profitability.
Check the numbers. This year, light trucks--which include pickups, SUVs, and crossover vehicles--have made up 64.5% of sales for Ford, General Motors, and Chrysler, according to an analysis by LMC Automotive. That's practically back to 2005 figures, when gas cost a dollar less and the families were guzzling their way to a Sun-Belt-suburb economic boom.
Of the three domestic automakers, only GM has seen its growth in cars sales outpace its growth in trucks this year. Chrysler has sold 27% more trucks compared to this time last year. It has only sold 13% more cars. The company still relies on trucks for about three-quarters of its total sales.
Overall, light trucks have made up 51.7% of U.S. auto sales, back up from 2008 when they plummeted to 47%.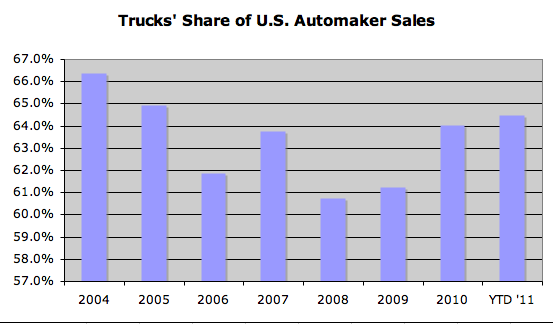 All this might seem strange. After all, soaring gas prices nearly
toppled
the weak recovery earlier this year. There also isn't enough construction to boost pickup sales. Meanwhile, the Detroit Three have famously poured money into the small car market. GM has practically dubbed the electric Chevy Volt its "moonshot."
But there is a simple logic to the truck surge. First, automakers are still offering thousands of dollars worth of incentives on some truck models. The recession and slow recovery also seem to have created a lot of pent up demand. Second, and most fundamentally, consumers now think of $3-a-gallon gas as the new normal and are returning to their beloved pickups and SUVs as a result.
Those big-car-loving Americans are also finding some more fuel efficient options these days. The most popular vehicle in America is still Ford's F-Series pickup truck, which is still, fundamentally, a gas guzzler. But crossovers, which offer styling similar to an SUV with significantly better gas mileage, have made up 42% of this year's light truck sales.
All of this has been crucial for Detroit's automakers as they've tried to climb their way back from the low points of 2009. Ford and GM have both made great improvements in their small car lineup. But for all the talk of cutting costs to eek profits out of sedans and compacts, trucks are still the profit center. There aren't any official figures available on what the automakers earn on each of their models, said Jesse Toprak, a long-time auto analyst with Truecar.Com. But his company projects that the domestic car makers are still just about breaking even on small cars. Meanwhile, he says, they make a profit of about $5,000 on each truck.
Since their near collapse, Detroit's automakers have gone to great lengths to remake their image. Their new narrative is about learning to cut expenses, make small cars, and go head to head with Asian imports. Ford and GM have achieved some of that. When it comes to cutting costs, its even true with Chrysler. But ultimately, Detroit's car makers are still, at their core, truck makers. That hasn't changed.