$112,000: The True Cost of Losing Your Job in the Great Recession
What happens to people who lose their jobs in the Great Recession?

Some of them don't find work for months, or years. Among 50-somethings who are unemployed, nearly half remain out of work one year later. Once they do find work, laid-off workers often earn much less, suffering a penalty worth as much 19 percent of wages, or $112,100 over their next twenty-five years.

The Hamilton Project tracked the histories of full-time workers who lost their job between October 2008 and April 2009 and followed their earnings for two years. This is what they found: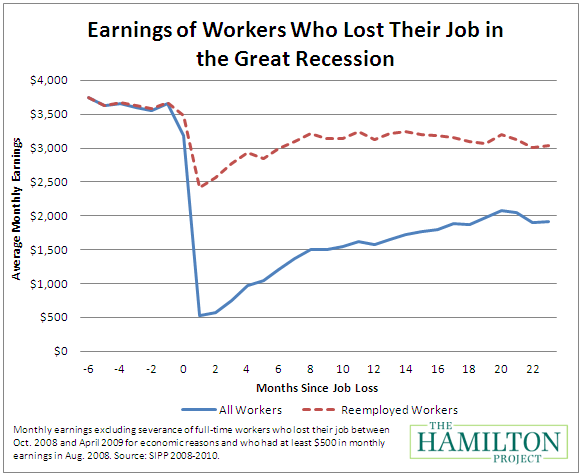 And this is what it means. Laid-off workers who find a job (the red dotted line) suffer a 17 percent loss in earnings that persists for up to two years. If you zoom out to look at all laid-off workers (the blue line), which includes the millions who never found work, this group makes only $23,000 annually--"48 percent lower than their average pre-job earnings."
So, if you rounded up and surveyed all the people who lost a job between October 2008 and April 2009, their current salaries would amount to half their earnings in the summer of 2008.
The theoretical explanation for slow wage growth in a recession is that, with millions of Americans desperate for more work, employers know they can offer lower wages to snag them. We've seen that play out in the statistics, as well. As Catherine Rampell wrote, middle-wage jobs suffered the biggest blow in the Great Recession and lower-wage occupations experienced the fastest recovery. As a result, wage growth slid.

Lower-wage jobs have practically gained back all the positions they lost up to 2010. The number of middle-wage jobs was still 8 percent below its pre-recession levels in July this year.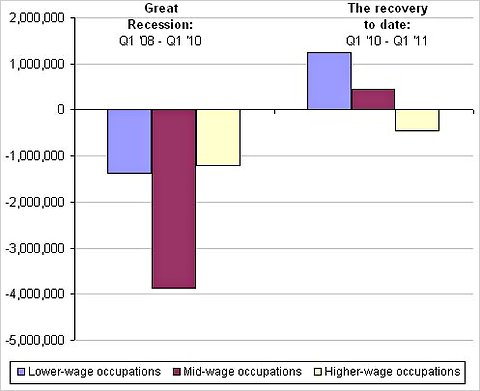 The bottom line is that the U.S. economy isn't producing enough jobs -- low-wage/middle-wage/high-wage/any-wage. In 2011, we're adding 125,000 new jobs a month. If we keep up that pace forever, we will never return to full employment -- not ever -- since that's barely enough to keep pace with new entries in the labor force.

Even if the economy accelerated to 200,000 a month, the average monthly rate for the best year of job creation in the 2000s, we would still have to wait until February 2024 to close the job gap.