Who's Actually Getting Mortgages At Ultra-Low Interest Rates?
Rates remain near record lows, but few are actually qualifying for those rates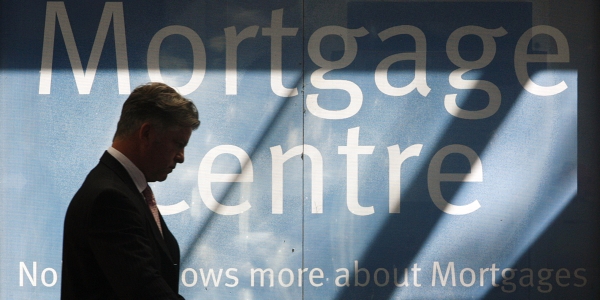 Last week, Freddie Mac's Primary Mortgage Market Survey showed average fixed interest rates on 30-year mortgages dipping below 4% for the first time. Rates rose a bit this week, now back above 4%, but they still remain very, very low on a historical basis. So if you are buying a home or wish to refinance, then it is a great time to get a new mortgage. That is, if you can qualify. Many Americans can't.
Only the Well-Above-Water Need Apply
Have a look at a key detail about the criteria for mortgage quotes from which Freddie derives its weekly mortgage interest survey:
The survey is based on first-lien prime conventional conforming mortgages with a loan-to-value of 80 percent.
So for starters, this rate is for prime mortgages. You probably assumed that, but this point is actually very important since we're talking about averages. Some prime borrowers face higher rates and some get lower rates. But this means that non-prime borrowers likely faced significantly higher rates -- if they can qualify for a loan at all.
But the second criterion is even more significant. Let's say that you have a house worth $200,000 and a mortgage balance of $175,000 that you want to refinance. Your loan-to-value ratio would be 87.5%, so you wouldn't be included in this average. You might manage to achieve a low rate, but someone with so little equity shouldn't expect to necessarily achieve rates near this average.
So those qualifying for these ultra-low rates must have pretty spotless credit histories and a pretty significant chunk of equity. That excludes anyone underwater or even slightly above water. And unfortunately, they're the ones who would benefit most by refinancing. According to real estate analytics firm CoreLogic, about three-quarters of underwater borrowers have mortgage interest rates above 5.1%.
A Small Universe of Borrowers
A few weeks ago, I received an e-mail from someone who works for a title insurance company who sees hundreds or refinances per month. This person told me that there's a small group of borrowers who continue to refinance each time rates drop significantly. Other borrowers fail to qualify.
These pristine borrowers are seen as having virtually no risk. They're relatively affluent, live in neighborhoods where home values are stable, and have spotless credit histories. Through brokers or banks directly, they are notified that they qualify for refinancing. Meanwhile, other borrowers aren't receiving such offers. Some of them may qualify, but they aren't being actively pursued for refinancing.
If You Can Get a Fixed Rate Mortgage
The other problem, however, is that mortgages at rates this low aren't particularly attractive to banks and investors. At fixed rates below 4%, 30 years begins to look like a very long time. We all know that interest rates are going to have to rise eventually. When they do, investors won't want to be locked into such low interest rates, since they will be able to invest in debt that provide significantly more interest at that time.
That's why we're beginning to see more adjustable-rate mortgages being sold again. They protect banks and investors from facing a very low fixed interest rate for the next 30 years. Through June, while interest rates were relatively low, ARMs accounted for 13.4% of the total mortgage market. That might not sound like much, but it's up from 9.5% in 2010 and 6.3% in 2009.
It wouldn't be surprising to see the portion of ARMs grow even larger in the second half of this year. In the first half, Freddie's the average weekly fixed interest rate for 30-year mortgages was 4.75%. Since July, the average weekly fixed rate has been 4.26%. That's about a 50 basis point drop, which might be big enough for yield-sensitive investors to demand more ARMs so they can benefit from the interest rate risk protection they provide.

So if you're looking to score a fixed interest rate near 4% on a 30-year mortgage, good luck. Right now, only a select few appear to be obtaining those rates. Others either don't qualify, can't get rates that low, or get adjustable-rate mortgages instead.
Image Credit: REUTERS/Daniel Munoz