Where Human Workers Can Still Beat Robots (at Least for Now)
In jobs from the retail floor to the developers' office, workers are losing the race against machines. Who can still compete against androids -- and for how long?
In jobs from the retail floor to the developers' office, workers are losing the race against machines. Who can still compete against androids -- and for how long?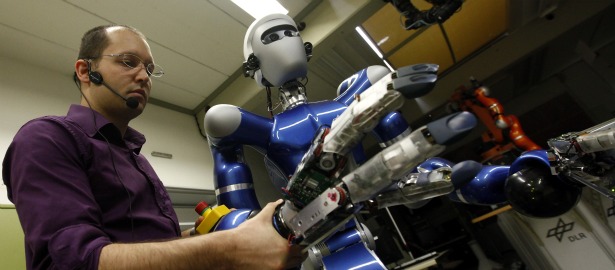 REUTERS
Although computers are encroaching into territory that used to be occupied by people alone, like advanced pattern recognition and complex communication, for now humans still hold the high ground in each of these areas. Experienced doctors, for example, make diagnoses by comparing the body of medical knowledge they've accumulated against patients' lab results and descriptions of symptoms, and also by employing the advanced subconscious pattern recognition abilities we label "intuition." (Does this patient seem like they're holding something back? Do they look healthy, or is something off about their skin tone or energy level?) Similarly, the best therapists, managers, and salespeople excel at interacting and communicating with others, and their strategies for gathering information and influencing behavior can be amazingly complex.
But it's also true that as we move deeper into the second half of the chessboard, computers are rapidly getting better at both of these skills. We're starting to see evidence that this digital progress is affecting the business world. A March 2011 story by John Markoff in the New York Times highlighted how heavily computers' pattern recognition abilities are already being exploited by the legal industry where, according to one estimate, moving from human to digital labor during the discovery process could let one lawyer do the work of 500.
In January, for example, Blackstone Discovery of Palo Alto, Calif., helped analyze 1.5 million documents for less than $100,000. ...

"From a legal staffing viewpoint, it means that a lot of people who used to be allocated to conduct document review are no longer able to be billed out," said Bill Herr, who as a lawyer at a major chemical company used to muster auditoriums of lawyers to read documents for weeks on end. "People get bored, people get headaches. Computers don't."

The computers seem to be good at their new jobs. ... Herr ... used e-discovery software to reanalyze work his company's lawyers did in the 1980s and '90s. His human colleagues had been only 60 percent accurate, he found. "Think about how much money had been spent to be slightly better than a coin toss," he said.
And an article the same month in the Los Angeles Times by Alena Semuels highlighted that despite the fact that closing a sale often requires complex communication, the retail industry has been automating rapidly.
In an industry that employs nearly 1 in 10 Americans and has long been a reliable job generator, companies increasingly are looking to peddle more products with fewer employees. ... Virtual assistants are taking the place of customer service representatives. Kiosks and self-service machines are reducing the need for checkout clerks.

Vending machines now sell iPods, bathing suits, gold coins, sunglasses and razors; some will even dispense prescription drugs and medical marijuana to consumers willing to submit to a fingerprint scan. And shoppers are finding information on touch screen kiosks, rather than talking to attendants. ...

The [machines] cost a fraction of brick-and-mortar stores. They also reflect changing consumer buying habits. Online shopping has made Americans comfortable with the idea of buying all manner of products without the help of a salesman or clerk.
During the Great Recession, nearly 1 in 12 people working in sales in America lost their job, accelerating a trend that had begun long before. In 1995, for example, 2.08 people were employed in "sales and related" occupations for every $1 million of real GDP generated that year. By 2002 (the last year for which consistent data are available), that number had fallen to 1.79, a decline of nearly 14 percent.
If, as these examples indicate, both pattern recognition and complex communication are now so amenable to automation, are any human skills immune? Do people have any sustainable comparative advantage as we head ever deeper into the second half of the chessboard? In the physical domain, it seems that we do for the time being. Humanoid robots are still quite primitive, with poor fine motor skills and a habit of falling down stairs. So it doesn't appear that gardeners and restaurant busboys are in danger of being replaced by machines any time soon.
And many physical jobs also require advanced mental abilities; plumbers and nurses engage in a great deal of pattern recognition and problem solving throughout the day, and nurses also do a lot of complex communication with colleagues and patients. The difficulty of automating their work reminds us of a quote attributed to a 1965 NASA report advocating manned space flight: "Man is the lowest-cost, 150-pound, nonlinear, all-purpose computer system which can be mass-produced by unskilled labor."
Even in the domain of pure knowledge work--jobs that don't have a physical component--there's a lot of important territory that computers haven't yet started to cover. In his 2005 book The Singularity Is Near: When Humans Transcend Biology, Ray Kurzweil predicts that future computers will "encompass ... the pattern-recognition powers, problem-solving skills, and emotional and moral intelligence of the human brain itself," but so far only the first of these abilities has been demonstrated. Computers so far have proved to be great pattern recognizers but lousy general problem solvers; IBM's supercomputers, for example, couldn't take what they'd learned about chess and apply it to Jeopardy! or any other challenge until they were redesigned, reprogrammed, and fed different data by their human creators.
And for all their power and speed, today's digital machines have shown little creative ability. They can't compose very good songs, write great novels, or generate good ideas for new businesses. Apparent exceptions here only prove the rule. A prankster used an online generator of abstracts for computer science papers to create a submission that was accepted for a technical conference (in fact, the organizers invited the "author" to chair a panel), but the abstract was simply a series of somewhat-related technical terms strung together with a few standard verbal connectors.
Similarly, software that automatically generates summaries of baseball games works well, but this is because much sports writing is highly formulaic and thus amenable to pattern matching and simpler communication. Here's a sample from a program called StatsMonkey:
UNIVERSITY PARK -- An outstanding effort by Willie Argo carried the Illini to an 11-5 victory over the Nittany Lions on Saturday at Medlar Field.

Argo blasted two home runs for Illinois. He went 3-4 in the game with five RBIs and two runs scored.

Illini starter Will Strack struggled, allowing five runs in six innings, but the bullpen allowed only no runs and the offense banged out 17 hits to pick up the slack and secure the victory for the Illini.
The difference between the automatic generation of formulaic prose and genuine insight is still significant, as the history of a 60-year-old test makes clear. The mathematician and computer science pioneer Alan Turing considered the question of whether machines could think "too meaningless to deserve discussion," but in 1950 he proposed a test to determine how humanlike a machine could become. The "Turing test" involves a test group of people having online chats with two entities, a human and a computer. If the members of the test group can't in general tell which entity is the machine, then the machine passes the test.
Turing himself predicted that by 2000 computers would be indistinguishable from people 70% of the time in his test. However, at the Loebner Prize, an annual Turing test competition held since 1990, the $25,000 prize for a chat program that can persuade half the judges of its humanity has yet to be awarded. Whatever else computers may be at present, they are not yet convincingly human.

Excerpted from Erik Brynjolfsson and Andrew McAfee's
Race Against the Machines
(Digital Frontier Press).
><