What D.C. and Detroit Have in Common: Improving Home Prices
As other regions continue to struggle, these two manage to defy the market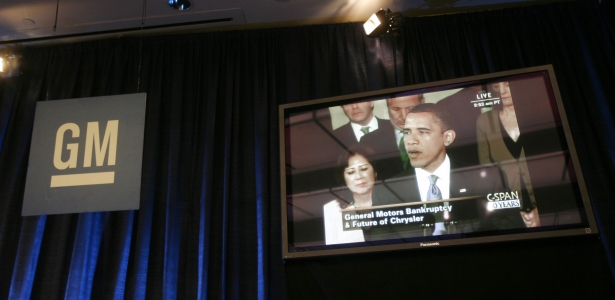 If you own a house in either Washington, DC or Detroit, MI, then here's some good news: your home probably rose in value over the last year. If you live in any of the 18 other metro areas that the S&P/Case-Shiller indices track, then the news isn't so good. D.C. and Detroit were the only two metro areas that saw year-over-year home prices rise as of August. To understand why the housing markets in these regions have been relatively resilient over the past year, you can look to the same central cause: government.
First, let's start with a chart. Here are the price indices for D.C., Detroit, and Case-Shiller's Composite-20 over the past 11 years: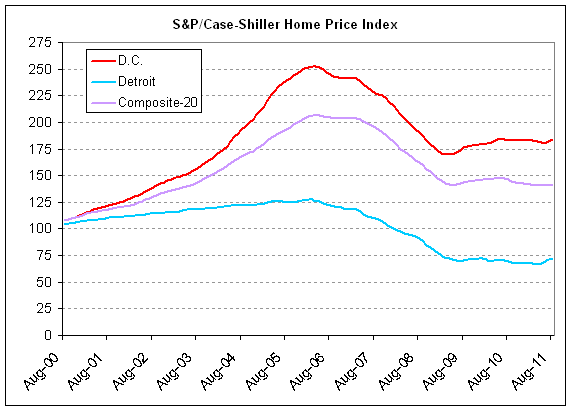 First, you can see that Detroit didn't have much of a housing bubble. Its prices rose modestly through 2006, but not nearly as aggressively as throughout the rest of the nation. However, its plunge was even more severe than that felt by the broader Composite-20. From peak to trough Detroit home prices fell 48%. The Composite-20 declined by 32%.
D.C. was a different story. Its home prices actually inflated even faster than the Composite-20 -- much faster. Over the period shown, to their highest point, D.C. prices increased 135%. The Composite-20 had a measly 92% jump over that period. D.C.'s fall hasn't been quite as bad either. From peak to August 2011, D.C. prices are down 27%, while the Composite-20's prices are down 32%.
Despite the different paths of these two cities' home prices, both managed to have a positive year-over-year gain in August. Detroit was up 2.6%, and D.C. was up 0.2%. That D.C. result might not look that impressive, but you can see from the chart that it has generally performed better than average since 2009.
So why are these two cities improving? While there are likely a number of factors at play, housing demand is likely rising in part to a feature they share. In both cases, their regional economies have been stimulated by the government.
In the case of D.C., this effect is quite direct: it is the federal government's home. Although austerity threatens federal jobs in the nation's capital in coming years, budget cuts haven't claimed too many jobs yet. Just last week, D.C. was named the most affluent metropolitan area in the U.S. on a per-capita basis. While the rest of the nation's economy is stagnant, the government is a pretty good place to be.
What about Detroit? Think back to the auto bailout. Before it occurred, the city was in pretty bad shape. The big three automakers are responsible for a huge slice of the city's economic activity. The government provided tens of billions of dollars to GM and Chrysler to keep them afloat. That allowed them to reinvent themselves. Today, those companies -- as well as Ford, which did not need a bailout -- are doing relatively well. Auto sales haven't completely recovered, but they're doing much better than during the recession. As those companies grow, the Detroit housing market begins to recover.
This doesn't capture the entire story for these two cities, but government must serve as a part of the narrative. Both of these cities have single industries that account for a large portion their respective economies. Those are both doing relatively well today. As a result, we shouldn't be surprised that home prices have held up fairly well recently.
Image Credit: REUTERS/Shannon Stapleton