Single-Serve Coffeemakers: Another Recession Paradox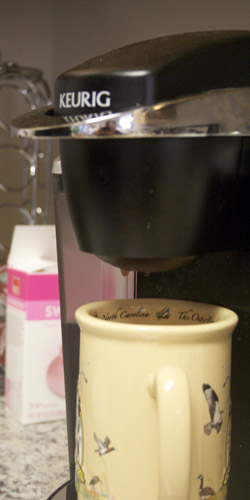 When I was growing up, the TV airwaves carried a jingle from S&H Green Stamps: "You're saving while you're spending."  It became a running gag in my family, we quoted the line whenever some sale or other irresistible bargain came up.
Now the philosophy is back with single-serve coffee makers. The
Wall Street Journal
reports that single-cup packages are the biggest growth area in the coffee market -- up over 100 percent last year -- and it's easy to understand their appeal. There are few commercial coffee makers that can produce fewer than four cups at a time, and most of the best rated have larger carafes. Home espresso machines can be erratic and French presses a pain to clean. As the report notes:
The onslaught of advertising comes as consumers remain cautious about spending. Single-cup coffee typically costs less than $1 a serving, but consumers have to spend between $100 and $400 on the machines. There are also upscale models that cost well above $500.

Still, food companies and analysts say consumers may be more willing to make coffee at home rather than buying it from local cafes.
But does cost saving really explain it?  In high-rent Princeton, N.J. Starbucks is still charging only $1.50 plus tax for a cup of drip coffee, slightly more for a single-shot espresso. That makes the $1.00 pods not such a convincing bargain, unless you prefer the taste of pod coffee to coffee house brew. And if you're willing to do a little grinding you can buy a
one-cup filter cone
, including travel mug, for under $5.00.
So economy can't be the real reason. In fact I know one high-tech department whose leaders compared the cost of single-serving coffee to buying and amortizing a massive high-end burr grinder and pro-grade espresso machine and were able to justify the cost to the corporate bean counters. So what is the real reason? Maybe it's the taste: A pound of even the best beans, under the best conditions, loses flavor if not consumed quickly; pods also offer variety. Maybe it's the elegance of design and operation. Maybe it's saving gas and time by not going out. But -- and this may be a
positive force in the economy
, as ads also help support magazines -- it's also the joy of saving while you're spending.
Image credit: Kona99/flickr