Mitt Romney and the Big Fat (Fake) Green Energy Scandal
The Republican candidate loudly jumps into the fray over the Energy Department's loans to green car companies. He should know better.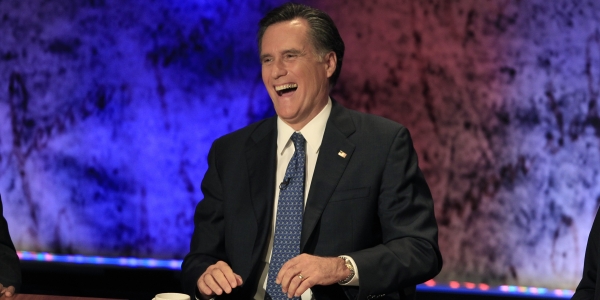 There's nothing new about calling Mitt Romney a cynic. But as the Republican semi-frontrunner leaps into latest controversy over the Obama administration's green energy loan program, the point is worth returning to, if only because, given the man's business background, his opportunism is yet again front and center.
For those who haven't been keeping score, Republicans seem to believe they've found a juicy follow-up to l'affaire Solyndra, this time involving roughly a billion dollars in low-interest loans to two small, sexy electric car companies, Fisker Automotive and Tesla Motors. Unlike Solyndra, the solar-panel maker that declared bankruptcy after receiving its own $535 million loan from the Department of Energy, both Fisker and Tesla are still in business. But ABC News kicked off a furor over them last week with a report on Fisker's decision to build the limited first line of its $97,000 sports car, the Karma, in a Finnish factory. The initial story ran with the made-for-outrage headline, "Car Company Gets U.S. Loan, Builds Car In Finland."
To top it off, the piece pointed out that both Fisker and Tesla are backed by wealthy Democratic donors. Republicans, sensing blood, jump at the story. And on Monday, Romney piled on, writing an op-ed calling for a congressional investigation into the entire auto loan program. The "U.S. government shouldn't be playing venture capitalist," he wrote. "It's not merely that government bureaucrats are bad at picking winners. The very process invites cronyism and outright corruption."
This is predictable. It's also sad. More than anybody in politics, Romney, the former venture capitalist, should know just how distorted this story has become.
Fisker received its loan based on a plan to buy and upgrade an old GM plant in Delaware, where it eventually intends by to start churning out 100,000 less expensive electric sedans a year. From the start, the company planned to build the Karma in Finland as a stop-gap measure, which DOE knew in 2009 when the agency awarded it a $529 million loan. Fisker says it went abroad because it couldn't find a domestic factory able to produce a small run of high-end electric sports cars. That makes sense. The U.S. simply doesn't have a lot of made-to-order car plants. After all, we're not exactly talking about Build-a-Bears here.*
The Karma is a small part of Fisker's long-term picture. It's a "statement car," meant to establish the maker's brand, Ed Kim, an analyst at AutoPacific, told me. The real test for the company will be whether it can actually produce and scale up its sedan. If it does, it will create American jobs. If it doesn't, the company is a bust.

But treating what Fisker's doing today in Finland as the sum-total of its business plan is crazy and deliberately short-sighted. It's like accusing 2004-era Facebook of burning money on a website for elite college students.

Whereas Fisker has caught trouble for its Finnish adventure, most of the issues with Tessla have focused on the fact that it's currently losing money, and that its founder, billionaire Elon Musk, was a major Obama donor. Both statements are true, but it's not unusual for an early stage company to be in the red, and Wall Street so far seems comfy with it. Tesla is publicly traded, and its stock is hovering a little higher than $27. A Morgan Stanley analyst in March released a 50-page report calling it "America's Fourth Automaker," and pegging its long-term stock value at $70.
To recap, the companies aren't really planning to ship all their jobs abroad, and they're not failing. As for political appearances, yes, there is something unseemly about well connected companies getting a boost from government spending programs. But it's also nothing new -- Halliburton, anybody? -- and happens whether or not the government is "playing venture capitalist."
Romney gets this. He knows how to read a business plan. He knows early-stage companies face hurdles and burn through cash before they ramp up. Of course Fisker and Tesla have problems, like any young company. The auto industry is one of the hardest to break into. It's capital intensive, R&D heavy, and brutally competitive. (The Karma has turned out to be less eco-friendly than first promised, and even the Morgan Stanley report on Tesla called it a high-risk investment.) But calling for a congressional witch hunt is not only brazenly political, but also costly to two fledgling companies who don't appear to have done anything wrong. Romney made his name as a venture capitalist. This would be a good time to act like one.

_____________
*Fisker also pointed out that the DOE loan was only used to fund its operations in the U.S. That seems like a sort of specious argument to me; for a young company, where no part of the business is optional, money is fungible. If you fund one part of it, you're funding all of it.
>