Falling Inflation Could Spark More Fed-Driven Stimulus
If the central bank is looking for an excuse to inject more money into the economy, it may soon have one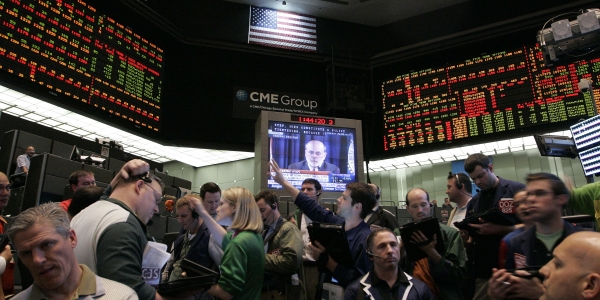 With gridlock in Congress, the only help that the economy could get from Washington would be through the Federal Reserve. Since it has the power to act independent of politics, it can take measures to try to speed up the recovery. And it has: after its unprecedented efforts taken during the financial crisis, it launched another round of monetary stimulus last November. This program ended in June, and hiring been weak since. That has caused some economists to call for a third round of quantitative easing ("QE3"). While the Fed has taken some modest action recently, it hasn't injected new money into the economy. It may be more aggressive in coming months.
The Sticking Point: The Fed's Dual Mandate
If the Fed was simply ordered to stimulate the economy whenever a push is needed, then it would have already embarked on QE3 by now. But it is also charged with the responsibility of ensuring that prices remain stable. That means it must avoid excessive inflation as well as deflation.
When the Fed injects money into the economy too aggressively, inflation can result. Since last spring, the Fed has been nervous to pump more monetary stimulus into the economy: prices were already rising. Most Americans noticed this through energy prices, which jumped significantly this year. Some of that inflation bled into other prices as well, as even core inflation -- the measure that excludes often volatile energy and food prices -- rose to levels above what we saw in 2010.
So since June, despite extremely weak employment growth, the Fed has been dancing around providing more tangible support. In August, it tweaked its policy statement language to provide greater certainty to the market on its commitment to keep interest rates low through mid-2013. In September, it announced that it would "twist" the concentration of bond maturities on its balance sheet by selling short-term bonds and using the proceeds to buy longer-term bonds. This would help it to push longer-term interest rates lower as well.
But Inflation Has Been Declining
The Federal Open Market Committee, which is responsible for monetary policy, has a couple of members who believe QE3 would be a mistake. The past two meeting votes have resulted in three dissents. Those three regional Fed bank presidents worry that more aggressive stimulus will result in higher inflation than would be ideal. Three members is not enough to affect the outcome of the Fed's monetary policy if other members support QE3.
And some have made pretty clear that they do. Just yesterday, Fed Governor Daniel K. Tarullo said in a speech that there is "need" and "ample room" for more Fed action. Other committee members have also signaled that more action is needed and inflation is not a concern.
In fact, current inflation trends could provide precisely the cover that those Fed doves need to put QE3 in place. Here's a chart showing core consumer inflation for 2010 and 2011: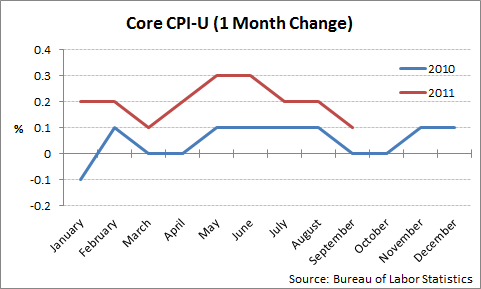 The last round of QE began in November, when core inflation had been 0.1% per month from May through August and dropped to zero in October. As the (red) line for 2011 shows, core inflation has been trending down again since June. In September it was 0.1%. If it sticks there or moves lower, then the Fed will more easily be able to justify additional stimulus in light of both aspects of its dual mandate.
While inflation certainly does appear to be trending downward, it may not be enough for the Fed to act when it meets in early November. The CPI data for October won't be released until after the meeting takes place. But if we see it stick at 0.1% or drop to zero, then December's meeting could mark the start of QE3.
Image Credit: REUTERS/Frank Polich