Crisis Averted? U.S. Adds 103,000 Jobs in September
After experts predicted zero job growth in August, the private sector added more than 130,000 jobs. But government continues to shrink, and the slow recovery crawls forward with 9.1% unemployment.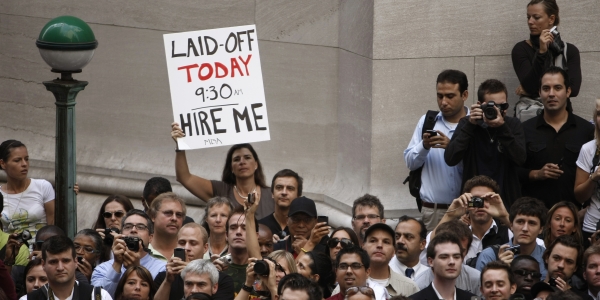 "That's not great, but it could have been worse." This has been the prevailing sentiment throughout U.S. recovery, and it also describes the unemployment report for September. For now, the U.S. continues to appear to dodge a double dip. The economy added 103,000 jobs during the month. That might allow economists to exhale after August's initial projection suggested that zero jobs were added. It also beat expectations of just 59,000 jobs added. Meanwhile, however, the unemployment rate remains unchanged at 9.1%. Let's break down the numbers.
Stuck at 9.1%
Here's the chart for the unemployment rate over the past two years, from the Bureau of Labor Statistics: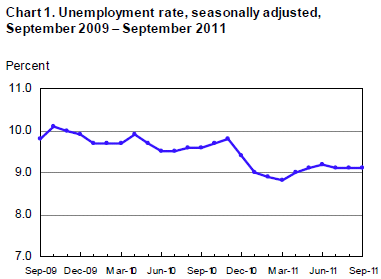 This definitely shows some improvement over the period, but it's been pretty modest: the rate is having trouble getting below 9%.
That's due in part to the problem that although jobs have been growing, they haven't been outpacing the number of workers entering or reentering the work force. In September, the labor force grew by 423,000 workers, but the government survey from which the unemployment rate is calculated said that 398,000 of them found jobs. Meanwhile, the number of unemployed Americans actually rose slightly to 13.99 million. That kept the unemployment rate stuck at 9.1%, for the third straight month.
While this is frustrating, it's actually very good to see additional people reenter the workforce and mostly find jobs. Here's a chart showing how the number of discouraged or otherwise marginally attached Americans has declined over the past few months:
But Growth Nonetheless
The government's Establishment Survey reveals modest improvement as well. It had originally projected that zero jobs were created in August, but that number was revised upwards today to a psychologically better 57,000. July's jobs added were also revised up to 127,000 to 85,000. That makes its performance slightly better than the 103,000 new jobs in September. Here's the chart:
As usual, the private sector preformed better than the broader economy, due to government layoffs. The private sector added 137,000 jobs in September, while the government cut 34,000. Most of those layoffs came on the local level, though state and federal government also contracted a bit. The government losses were also predominately in the field of education. Here's a breakdown that shows some selected sectors: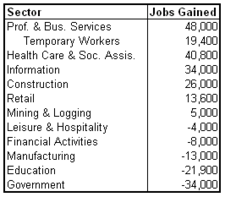 Once you get past the government's influence, you can see that most sectors had a decent month in September. Professional and business services, health care, and information led the way. Even construction -- an industry that was hit particularly hard during the recession -- added some jobs. The biggest disappointment above is probably manufacturing. It has seen some job growth over the past few years, but the sector cut millions of workers during the recession.
Reason for Optimism
Celebrating seemingly anemic job growth might feel strange. September's 103,000 jobs added isn't enough to keep up with the usual 125,000 or so increase in population. So we need to see stronger gains to bring down the unemployment rate. But after the first August estimate of zero jobs added, economists must be a little bit relieved. Not only did September provide the sort of weak-but-positive job growth we've become accustomed to in this slow recovery, but prior months also benefited from positive revisions.
In September, average hourly earnings and average workweek also rose slightly, by 0.2% and 0.1 hour, respectively. That's after the average workweek declined slightly in August. It's also good to see more discouraged workers reenter the workforce and most of them find jobs.
We definitely need to see stronger job growth than this at some point. But for now, we'll take anything modestly positive we can get. Lukewarm news is better than bad news. For now, the weak recovery narrative appears to hold.
Image Credit: REUTERS/Larry Downing