Chart of the Day: Mortgage Rates Dip Below 4%
The Federal Reserve's new policies appear to be having an effect: mortgage interest rates are falling. They were low before, but this week, they hit a new milestone. Average 30-year mortgage interest rates have fallen below 4% for the first time on record, according to Freddie Mac. And the Fed's action has only just begun.
Here's a chart to put this week's drop into perspective: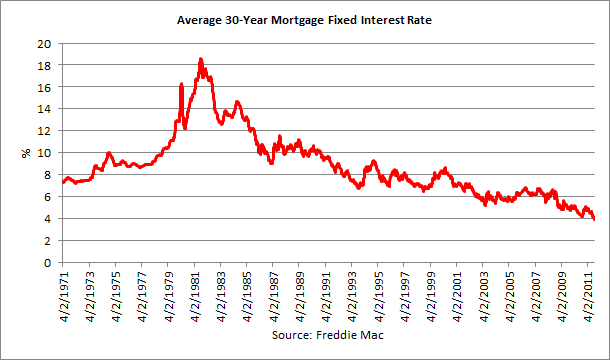 The average rate was just 3.94% this week. That's down from 4.01% last week, which was also a record at the time. You can see just how low this rate is through this historical context. In the early 1980s, rates peaked above 18%. Even during the housing bubble, they remained above 5%.
These rates provide an unprecedented opportunity for homeowners to secure a very low interest rate. That is, if they can qualify for a new mortgage or refinancing. Banks remain relatively strict with their credit. Many mortgage borrowers who are underwater, have very little equity, or less-than-perfect credit histories may have trouble taking advantage of these very low rates.
But for those who can qualify, this is probably a once-in-a-lifetime opportunity. A 30-year fixed interest rate below 4% is a very low cost for borrowing. The big question now is: how low will rates go?