Chart of the Day: Did Tax Cuts or Spending Cause the Deficit (or Both)?
Democrats blame tax cuts for the ballooning U.S. debt problem. Republicans blame runaway spending. In this case, everybody is right. But one cause appears to be more to blame than the other.
Here's a chart prepared by Pew Charitable Trusts (.pdf) that shows the picture pretty clearly: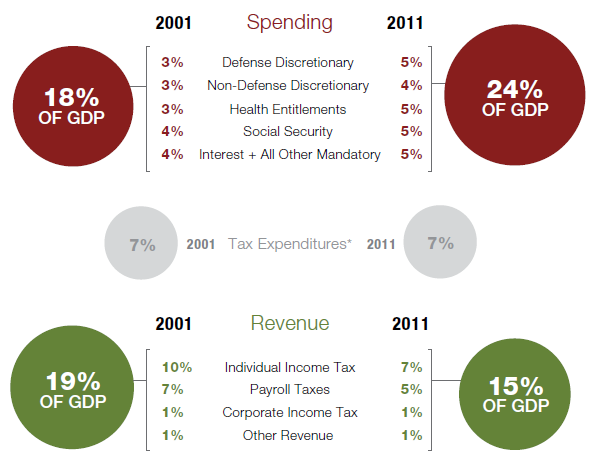 First, a note on the timeline here. As Pew notes in its study, 2001 was the last time the U.S. government had a surplus. At that time, the Bush tax cuts were not yet in effect. Since then, deficits have increased U.S. borrowing. Its 2011 numbers here are (presumably) estimates. This chart tells us a few things. From the end of 2001 through last Friday, the U.S. debt has increased by 250% from $5.9 trillion to $14.8 trillion -- so these seemingly small percentage of GDP changes add up very quickly.
Over the decade, spending has increased significantly -- from 18% of GDP to 24% of GDP. But this isn't a simple story about entitlements and big government: defense spending played a big part, as the wars in the Middle East were ongoing. Of course, health entitlements and Social Security did play a significant role as well.
But if you look at revenue, the decline was relatively smaller than the increase in spending -- tax revenue dropped from 19% to 15% of GDP. Here's an important takeaway: even if tax revenue had remained stationary at 19% of GDP over this period, we still would have ended up with deficits. The increase to 24% of GDP in spending easily overwhelms 19% of GDP in tax revenues.
So what would have needed to happen over this period to avoid adding to the national debt? Either spending should have remained constant at 18% of GDP or taxes should have risen to 24% of GDP as spending increased. Of course, each went in exactly the wrong direction -- spending rose as taxes fell. To make matters worse, a bad recession hit so that the actual tax revenue declined even further than tax cuts alone would have implied.
Trying to affix blame here is complicated. Certainly, President Bush championed tax cuts while also ramping up additional spending on defense and Medicare. That's a poor formula for fiscal soundness. But Congress went along with it -- and has continued to spend more while keeping taxes low. Eventually these ratios will have to flip flop: until tax revenues begin to approach or overwhelm spending, the U.S. will remain on an unsustainable fiscal path.