Chart of the Day: Consumer Confidence Drops to Early 2009 Level
Americans aren't convinced that the economy is improving. Although business activity appears to have picked up a little since it sputtered from April through June, consumer confidence just keeps falling. The Conference Board reports today that its Consumer Confidence Index has dropped to 39.8 -- the lowest reading since sentiment was at its worst in early 2009. This isn't good news for retailers as the holiday shopping season approaches.
Here's the chart, updated with this morning's data from the Conference Board: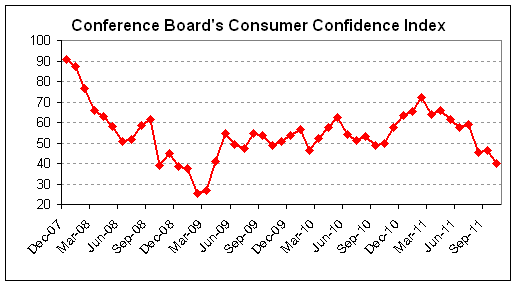 You can see just how weak confidence is this month. It hasn't been so low since March 2009, when it was near its recessionary worst. The Conference Board blames the poor sentiment on concerns about "business conditions, the labor market and income prospects."
These sorts of levels are what you would expect to see in a recession -- not in a recovery. If spending matches this weak sentiment, then a double dip will be hard to avoid. Up to now, we haven't seen spending decline like sentiment would imply, however. Even on an inflation-adjusted basis, through August consumer spending has remained well above early 2009 levels.
In recent months, we've seen the jobs narrative remain the same: companies are hiring, but they aren't not bringing on enough workers to make a dent in the unemployment rate. Clearly, consumers aren't impressed.
This Thursday could provide an important turning point. At that time, the first estimate for third quarter GDP will be revealed. If growth rose at a much brisker pace than in the first half of the year, then perhaps consumers won't feel as bad about the economy. Analysts expect the quarter to post a 2.8% growth rate, compared to just 1.3% in the second quarter. But if growth disappoints and remained very anemic, then sentiment could fall even farther and spending would likely follow.