48% of Americans Live in Homes Receiving Government Benefits
Nearly half of the country lives in a household that's getting some sort of government benefit such as Social Security or unemployment insurance. That represents a two-third increase since 1983.

This is what I call a Rorschach statistic. Whether you think the chart below represents a positive or negative trend depends almost entirely on your political orientation. If you're left-of-center, you might think: Government support has expanded as incomes have stagnated in the private sector, and that sounds fair. If you're right-of-center, you might think: Government is spending more and more on redistributing income through a social safety net that is growing much faster than we can afford.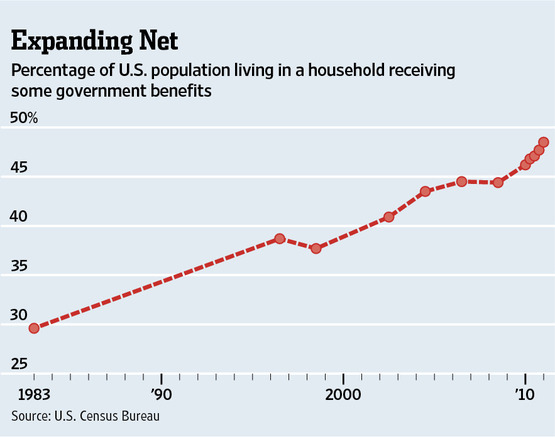 About a third of households received a means-tested program, such as food stamps or Medicaid, and another seventh lived in homes receiving Medicare. Sara Murray of the Wall Street Journal breaks down the figures:

High unemployment and increased reliance on government programs has also shrunk the nation's share of taxpayers. Some 46.4% of households will pay no federal income tax this year, according to the nonpartisan Tax Policy Center. That's up from 39.9% in 2007, the year the recession began.
This graph shows that about a quarter of the total increase since 1983 has happened since the recession. That means most of this spike has been structural. Its' the result of old laws. Social Security is getting bigger. Medicare and Medicaid are getting bigger. For the last 60 years, we've transitioned from a defense-heavy, investment-heavy government to a more benefit-heavy government, where half of all income sent to Washington is sent to the elderly, sick and disabled, or to their service providers.

Is that good or bad? Either way, it is the result of democratic choices made again and again by Democratic and Republican presidents and Congresses. No matter what you think of a federal government that supports a growing share of households with income support and benefits, this is the system we've voted for.