The author of America's best-selling college guides tells all: how rankings fail students, why tuition won't stop climbing at Ivy League schools, and what parents don't understand about the admissions process

Edward B. Fiske is the author of Fiske Guide to College, the most popular college guide in America. He is also the author of many other college guidance books, including "Fiske Guide to Getting Into the Right College." He was Education Editor for the New York Times. This is an edited transcript of our conversation.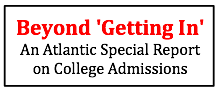 What's the one thing parents don't understand about the application process?
At the beginning, parents don't always get the importance of the "fit" or "match" issue. I think parents may be overly concerned with the prestige factor, the I-want-this-bumper-sticker-on-the-SUV factor. There is an admissions officer joke that you wouldn't be surprised to be driving along the road and see a prestigious college decal that said "Also Accepted At: Cornell, Pomona, Northwestern..."
The incredible growth in tuition over the last 30 years: Is it all about the race for prestige?
There is a prestige element. People make the false assumption that cost equals quality. Colleges are raising tuition because market research said they should. George Washington University in D.C. is a great example. They raised tuition because research showed that they had a lower tuition than American University, so students considered them worse. Now they have one of the highest tuitions in the country, and their applications are way up.