Why isn't there a Consumer Reports, Zillow, or Kelley Blue Book for America's colleges?

REUTERS

The market for higher education is broken. Despite massive increases in tuition, students continue to flock to colleges and universities where the likelihood of earning a degree, let alone finding success in the labor market, is distressingly low. As a result, levels of student debt and loan default rates are at all-time highs, leading some to declare that "sub-prime" has "gone to college" and that this bubble too shall burst.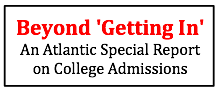 The market is broken because it's rigged in favor of institutions of higher education and against the interests of consumers. Prospective college students lack basic information about college costs and quality--and how they vary across institutions--on which to base their investment decisions. This lack of information handicaps the ability of students to be the savvy consumers that a well-functioning market requires, freeing poor-performing institutions to operate at will.
Compared to other large investments that Americans make, the information that prospective students have about college costs and quality is woefully incomplete. Consumers in the market for a new car, a new house, or even a new washing machine can look to Consumer Reports, Zillow, the Kelley Blue Book, and other outlets for reams of comparable information about current prices, maintenance costs, and resale values. Sure, prospective college students have the popular U.S. News and World Report rankings, but these are largely based on institutional reputation, selectivity, and other measures that fail to capture return on investment. What if consumers want to figure out what their credential might be worth on the labor market after they graduate? Whether they'll have enough income to live comfortably and still pay back their loans? Whether students actually learn anything over the course of their program? On important questions like these, prospective students are in the dark.