That Double Dip Everybody's Talking About? It's Not Here
As the market continues to sputter, the fear of another recession grows. Should we lose faith in the recovery?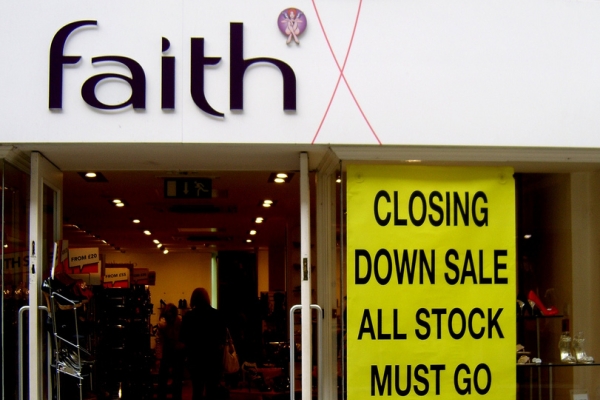 Rubbing their eyes after what was likely a festive final long weekend of the summer, stock traders didn't like the news they saw on their computer screens Tuesday morning. They've reacted accordingly: in early trading, the major U.S. indices were down more than 2%. Fears of double dip continue to mount.
Why all the gloom? In the euro zone, attempts to stabilize nations with serious budgetary problems continue to hit roadblocks. This comes after Friday's terrible unemployment report, which indicated that zero jobs were created in August. If the economy continues to weaken, then those double-dip fears may be justified. But if you look at the broad picture, you can quickly see that the U.S. recovery isn't dead.
How Scary Are the Bad Reports?
Let's start with those bits of recent news that have been creating these fears.
Zero Jobs? Hiring Didn't Really Halt in August
As mentioned, the unemployment report for August wasn't pretty. Does zero job growth mean that U.S. firms have given up on the recovery and have begun cutting as many employees as they're hiring? Maybe, but that the zero jobs number isn't a final verdict on the labor market.
For starters, it depends on which government survey you believe is more accurate. The other ("household") survey that measures unemployment indicated that jobs grew by 330,000. It also told us that 160,000 workers who had been sitting on the sidelines entered the workforce in August. This renewed energy to seek work indicates more confidence on the part of job seekers.
The survey that showed zero job growth ("establishment") may also provide too grim a view of the labor market. First, since it relies on surveying existing businesses, it fails to capture all of the growth of startups. It also fails to fully account for freelancers. Both of these groups of workers are larger in an economic recovery than at other times.
Although the establishment survey showed zero net jobs created, private sector hiring continued to grow. Sure, its 17,000 jobs added is relatively weak. But this may have also been artificially lower due in part to the month's massive Verizon workers strike. Even a conservative estimate says that it may have lowered private sector job estimates by at least 25,000. Still, 42,000 private sector jobs added isn't the sort of recovery we'd like to see, but it is growth.
Finally, employment is more of a lagging indicator than a leading indicator. Employers hire or fire workers based on what they've sensed in prior weeks or months. If sales have been trending down, layoffs may begin. If sales are consistently rising, then hiring might be necessary. So a weak August jobs report tells us more about the summer than the fall.
Trouble in the Euro Zone? This Isn't News
What about all the issues in Europe? We learn this week that Greece's prospects aren't looking very cheerful. But then, we've known this for more than a year. Only the most starry-eyed optimists think that the rest of the euro zone will be both willing and able to nurse the nation back to health. Although some paths may be better than others for the nation, it will have to endure some pain. Other troubled nations like Spain and Italy will face some challenges as well.
So the euro zone's troubles are anything but news. But even to the extent that the region continues to struggle, the impact to the U.S. will be indirect. In a global economy, regions are somewhat interconnected. But a few nations in Europe experiencing severe fiscal problems should only have minor effects on the U.S. economy.
Consumer Confidence Plummets? Maybe It's Improving
What about the awful consumer confidence results we saw in August? Those are forward looking, so they might be reason for concern. But here's the thing: if you look at other estimates of confidence, it has actually been improving throughout the summer. Here's a chart from Gallup showing its daily reading of consumers' economic outlook, which provides a clearer picture of the trend:
Confidence in late August improved. Pessimism remains elevated, but it began to decline as the month came to a close. Confidence is approximately back up to where it was in July.
Moreover, much of the decline in confidence likely had to do with the U.S.'s dangerous debt ceiling negotiations. When the nation's debt was downgraded, consumers also likely frowned. But the debt ceiling dispute was resolved in early August. As the month closed, it became quite clear that few really cared that one rating agency decided to downgrade U.S. debt, as Treasury yields remain very, very low and the securities are as attractive as ever. So worries connected to the downgrade should quickly dissipate.
More Reasons for Optimism: A Bright August
Despite the weak hiring and continued troubles abroad, we've seen some good news recently that should be noted as well.
July Broke the Trend
First, a broad-based look at the economy in July shows that the U.S. economy improved compared to May and June. This was driven in part by stronger spending during the month, after it fell for three months straight. Stronger sales, more than any other factor, are what firms need to see for hiring to rise.
Surprising Growth in Services
Tuesday morning, the bad news in Europe overshadowed a report from the Institute for Supply Management. It says that the services sector grew faster in August. The market, however, expected the sector's growth to fall. New orders, the backlog of orders, and new export orders all improved during the month.
Strong Retail Sales in August
We don't have broad statistics yet on how much consumers spent in August. But early reports indicated that it wasn't a bad month. An index that Reuters compiles based on selected retailers showed sales up 4.4% during the month -- despite a massive hurricane hitting the east coast. If spending continues to rise, then so should hiring and growth.
More August Auto Sales
Auto sales are a key indicator within spending. When Americans are worried about the economy, they're far less likely to make big purchases like a car. Yet August auto sales jumped 7.5% in August, compared to a year earlier. And again, as a hurricane paralyzed much of the east coast in late-August, some people may have delayed buying a car until September. Sales were still up.
Should We Worry?
So should we be concerned about the recovery? Sure, not all sectors are moving forward in confident unison. Employment growth continues to be painfully weak. Consumers are still holding back. But this narrative isn't new -- we've heard it for more than a year now. Even despite the summer slowdown, the U.S. still appears to be in an excruciatingly slow recovery.
That's nothing to celebrate, but it's certainly better than a double dip. While it is possible that the U.S. could end up in recession again later this year or in 2012 if the economy begins to deteriorate more broadly, it doesn't appear to be there yet.
Image Credit: James Bowe/flickr