The media's "typical" college student lives on a campus at a four-year institution. But that describes no more than a sixth of the total college population. In fact, there are more college attendees over the age of 30 than such "typical" students. The most significant shift in higher education is the massive growth in the adult-student population.
REUTERS

The quintessential American college student leaves home at 18 to live on a college campus for four years. We've historically defined "nontraditional" students as those over the age of twenty-four, those enrolled part time, and those who are financially independent. But today, the "typical" student is the exception.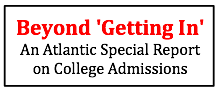 There are currently 17.6 million undergraduates enrolled in American higher education. The National Center for Education Statistics reports that just fifteen percent of them attend four-year colleges and live on campus. Forty-three percent of them attend two-year institutions. Thirty-seven percent of undergraduates are enrolled part-time and thirty-two percent work full-time. Of those students enrolled in four-year institutions, just thirty-six percent actually graduate in four years.
The most significant shift is probably the massive growth in the adult student population in higher education. Thirty-eight percent of those enrolled in higher education are over the age of 25 and one-fourth are over the age of 30. The share of all students who are over age 25 is projected to increase another twenty-three percent by 2019.