No New Jobs Created in August, Unemployment Rate Stuck at 9.1%
Report falls way short of predictions suggesting 75,000 new jobs would be created
Report falls way short of predictions suggesting 75,000 new jobs would be created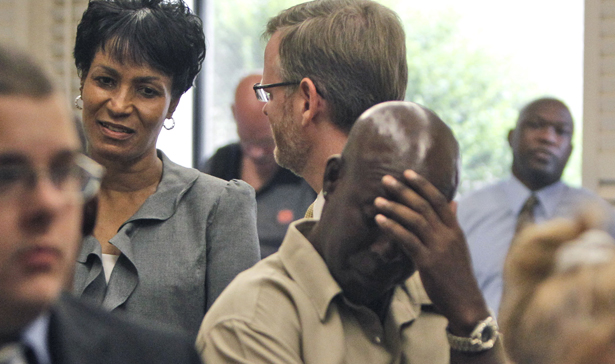 Job seekers line up to see recruiters during a career fair in Plano, Texas. AP.
In yet another bit of bad summer economic news, the United States added no jobs overall in August and unemployment held steady at 9.1 percent, revealing a stalled labor market.
Economists predicted the Labor Department's monthly report would show a modest gain of about 75,000 jobs with the unemployment rate holding steady at 9.1 percent.
The report said that the number of new jobs roughly equaled the number of jobs lost. It takes about 125,000 new jobs per month to keep the unemployment rate steady. An increase of 200,000 jobs per month would bring the rate down a percentage point over a year.
The reports for June and July were also revised downward to 20,000 and 85,000, respectively, indicating that the labor market was weaker than previously thought.
In  more gloomy news, the length of the average workweek fell by 0.1 hour to 34.2 hours, a sign that hiring is unlikely to pick up soon. Average hourly earnings also fell, which could damp down future consumer spending. The civilian labor force participation rate, which measures people who are working or are looking for work, was little changed from July's disappointing reading at 64.3 percent.
Friday's bad news contrasted with a sunnier White House report a day earlier that predicted unemployment would drop to 8.3 percent in 2012. That news came in a mid-session review of the budget. An "alternative forecast" in the same report, which takes into account the summer's volatility, is less optimistic, predicting that the rate will remain at 9 percent next year. Both forecasts expect the unemployment rate to reach 5.2 percent by 2018.
The Federal Reserve will look closely at August's jobs numbers as it heads into its next meeting, scheduled for Sept. 20-21. At its August meeting, the policymaking Federal Open Market Committee discussed--but did not commit to--a number of ways to boost the economy, including another round of asset purchases, shifting its bond holdings into longer-term securities, and reducing interest rates paid on excess reserve balances. Friday's disappointing report increases the likelihood the Fed will act.
President Obama will introduce job creation initiatives in a speech next Thursday. The address will include ideas Obama has supported before, such as an infrastructure bank and measures targeted at the long-term unemployed, in addition to new proposals.
"Today's unemployment numbers are a painful reminder that America still awaits economic leadership from President Obama," RNC Chairman Reince Priebus said in a statement. Preibus called the administration's regulatory policies "the biggest road block to job creation."
Stock futures were down before the report's release and fell further upon the release of the jobs data. This is the first time a jobs report has come in at zero since February 1945, according to CNBC.