How to Choose an Office Chair
Very few people can sit perfectly still for a whole work day; the best desk chairs are the ones that adapt to your movements, allowing you to sit up, recline, lean forward and, yes, even slouch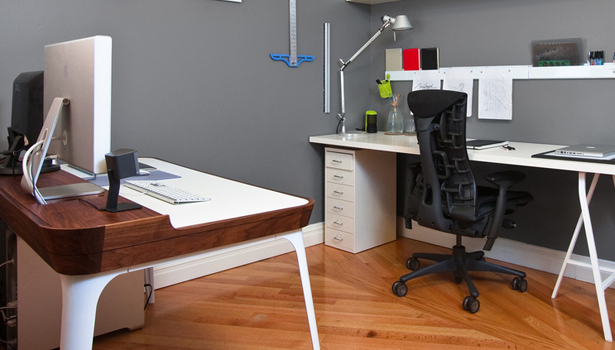 The Wall Street Journal has a good review of one of the most controversial everyday technologies, the office chair. Every year one or two, new models appear, but Mad Men-age classics haven't gone away. Herman Miller still sells the Eames Aluminum line (1958) and Knoll the Pollock Executive Chair (1965). The Ambasz-Piretti Vertebra Chair (1976) can hold its own ergonomically with many recent models.
There are at least a half dozen professions -- architect, industrial designer, ergonomist, physician, physical therapist, even sculptor -- who have designed chairs. Some of the most popular recent models, notably the Steelcase Leap, have been team efforts.
When the modern posture movement began in the 1920s, experts sought a single optimal support position for maximum comfort and productivity. That quest continues, but there's another point of view that is more realistic for most office workers, a chair's support for the constant alternation of upright sitting, leaning back, leaning forward, and, yes, occasional slouching that are part of a normal rhythm of work. As a leading Norwegian designer, Peter Opsvik, points out in a book I am reviewing for a design history journal, one of the most difficult street acts is the "living statue" who stays motionless. The idea behind much Scandinavian chair design is that "the best position is the next position." Most U.S. ergonomic chairs, including the futuristic Aeron, tilt at the knee to keep feet on the floor. Many European designers prefer mechanisms that tilt at the center column, to encourage people to use their feet more actively. You might prefer one approach or the other in practice.
Most new technology becomes lighter and more efficient. Mechanical chairs are different. They're always taking stress as people get up, sit down, and lean back and forward. Durable and environmentally-friendly construction pays for itself -- but only in the long run. To test a chair, don't just sit up straight and try reclining positions. Try to speed up to an hour of typical use, changing positions. Some of the most advanced chairs are made by smaller companies and may be hard to find, like Nils Diffrient's World Chair. (Among other things, Diffrient has countered the Achilles heel of mesh backs, weak lumbar support, by borrowing from tailored clothing design to create a more contoured surface.)
No matter how ingenious, no design is better than how you will feel in long-term use. That's why designers call the experience of a chair "the ride."
(I've written about chairs before here, here, and here.)

Image: Nkeppol/Flickr.