How a mandatory "fact box" -- like a nutrition label for higher education -- would help applicants understand which college is right for them

In 2011, more American students enrolled in college than ever before. Many of them, if not most of them, will not graduate. Community colleges have graduation rates as low as seven percent. And some four-year colleges aren't much better. The University of the District of Columbia graduates only 12 percent of its students within six years, and Chicago State University graduates only 14 percent.
If you didn't know this, don't feel too bad. Neither do most college students - even as they fork over tuition dollars to attend institutions from which they'll never graduate.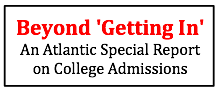 News about serious flaws in the quality and productivity of our colleges hasn't made it to the most important group of constituents - college-bound students. A student can still apply to college and invest thousands of dollars of their earnings in tuition - not to mention thousands of state and federal dollars - without ever knowing his or her likelihood of finishing or the amount of debt the student is likely to incur.
This may sound like a problem that's limited to low-selectivity institutions like community colleges or for-profit universities like the University of Phoenix. But the need for better information about the outcomes of educational programs goes all the way up the educational ladder. For example, without accurate and timely information about employment outcomes, students who buy into the law school dream of a $150,000 salary are finding themselves with $150,000 in debt and only temporary employment.