Consumers Lose With New Debit-Card Rules
By aggressively limiting the fees banks can collect, retailers win and poorer Americans will pay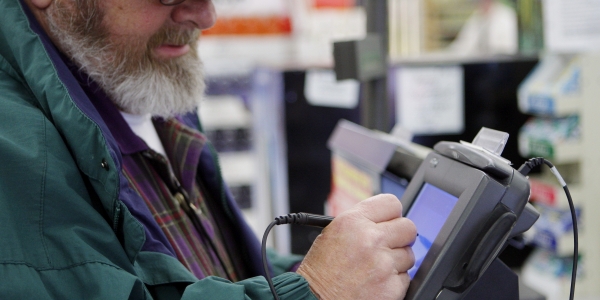 When Congress voted to change debit card rules last year, the effort was promoted as a way to put more money in Americans' pockets. It would crack down on big banks' excessive profits, said its proponents. The new swipe rule is set to take effect on Saturday, and the result is looking quite different. Those banks are just charging consumers directly now though higher checking account fees, and retailers are pocketing the savings intended for their customers.
The Theory
An article by Josh Boak at Politico details this unfortunate, but wholly predictable, result. It reports that debit card fees collected by banks will decline from an average of 44 to 24 cents per transaction -- by about 45%. The proponents of this change said that this savings should flow from retailers (who collect the fees on behalf of banks) to consumers through lower prices.
The Reality
Unfortunately, that doesn't appear to be happening. Politico reports that retailers aren't changing their prices in preparation for the fee cut:
"Companies are exploring it," said Mallory Duncan, senior vice president and general counsel for the National Retail Federation. "They're not lowering prices before the benefits of the law kick in."
The article continues by explaining that we have little reason to believe that these retailers will suddenly cut prices, even after Saturday:
Many stores are starved for revenue. Sales nationwide were at a standstill in August, according to a recent Commerce Department report. And Best Buy, Target and other national chains have warned that continuing high unemployment will pinch their revenues.
At a time like this, will retailers really look at a $7.2 billion windfall thanks to this new rule and just pass that cash onto its customers? Their "exploring" will probably find that these additional revenues will help their weak profits and that consumers will barely notice the change if they cut prices. And let's face it: if they really intended to cut prices in response to the change, then they could have fairly accurately estimated their potential savings without waiting for the fee cut to go into effect.

And It Gets Worse
Not only will consumers fail to benefit from lower prices, but their checking costs are rising. Banks are cutting card benefits and hiking fees that their customers pay to fill the hole left by the lower swipe fees. Sandra Block at USA Today reports:
Only 45% of non-interest bank checking accounts are free, down from 65% in 2010 and 76% two years ago, according to a survey released Monday by Bankrate.com. Fees, meanwhile, are rising: The average monthly fee for a non-interest account is $4.37, up 75% from a year ago.
In short, free checking will vanish for millions of Americans -- if it hasn't already. Unlike retailers, banks don't need to "explore" the decline in fees: they already estimated what it will look like and began taking action last year to get consumers used to paying more for checking.
The Action's Regressive Nature
The worst result of this new rule may be that it will specifically harm lower- and middle-income Americans. Think about who banks will force to pay for checking now. A bank has two customers: one with a high income that carries a few thousand dollars in her checking account and another with lower income who carries a few hundred in his checking account. It would value more deposits, so it will charge the lower income individual a larger checking account service fee.
Indeed, we see this already. Some banks offer free checking accounts if a minimum balance is maintained. So the wealthier person who can afford to keep a larger balance will continue to enjoy free checking, while a less affluent person who basically lives from paycheck to paycheck will have to pay. Before, neither faced a direct fee for their checking.
Even if retailers did decide to pass on this savings to their customers through lower prices, the wealthier person would still benefit. Since someone with more income will purchase more goods and services, that person would save more money through lower prices -- and still enjoy free checking. The less affluent individual will save relatively less money through lower prices, but will pay more for checking.

Maybe banks were charging too much for debit fees before. But doing so had a progressive benefit: it subsidized free checking for individuals who might not have otherwise qualified. Now they must pay. At this time, it looks like retailers will just pocket their fees savings, instead of passing them on. But even if they do cut prices, the savings to less affluent Americans won't make up for the relatively higher fees they now face. Instead, their checking account fees must be large enough to partially subsidize free checking for wealthier customers.

Image Credit: REUTERS/Brian Snyder